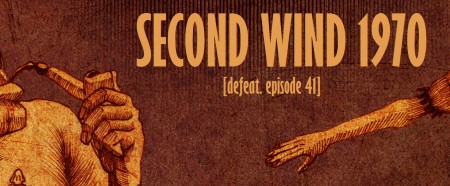 [DEFEAT. is a   coming-of-death novella. every week a new episode pops up, accompanied by full art by Brian Galiano. for fans of science fiction, fantasy, video games, comics, war epics, and feats of triumph]

Bursting into tears, the girl ran into her father's open arms. She was seven years old and learning about the unfortunate end of life. Death. She was learning what it felt like to watch a loved one succumb, to fall victim to the force by which we are all eventually swept away.
He wasn't her brother. But he sure felt like it, having been there for the duration of her entire short existence. From the very first day Betty brought her home from the hospital, the seven-year-old had been loved and protected by this surrogate-sibling. And now she had to watch as he withered away into nothing.
Nothing living, anyway.
"Daddy, why is this happening? It isn't fair! I don't want him to die!"
Stoically taking a rip from his pipe, the father looked at his only child. He was challenged in a way that was new and unnerving. Which was saying something, given the scope of his life experience.
He had survived war. He had moved to America with nothing and made something of himself. He had mastered the arena of political science, becoming the department head of a prestigious university.
And he had done all of this with self-assurance, an unwavering belief that the path he had chosen was the right one.
But now he wasn't exactly sure what to do. He gently parted his lips, allowing for a light puff of tobacco smoke to billow upwards. The father savored the taste of the smoke and anticipated the rush from the nicotine. This was his ritual when preparing to do some heavy-duty–
"Daddy," the daughter interrupted, "isn't there anything we can do?!"
"I'm still doing zee heavy-duty thinking." He hadn't completely shaken his accent. Years later, when his daughter realized he had an accent, she'd find it endearing. But right now, she just wanted a solution to what had been described to her as an insolvable problem.
She had heard the word from all of them. Her mother. Her father. The doctor. They all had different ways of explaining what it meant. The maternal optimism that everything would be fine, despite what the word suggested. The paternal idea of confronting the inevitability of the word, becoming stronger in the process. The scientific defining of the word, plagiarized from a textbook. Yet, nothing curbed the inherent terror of the utterance.
Cancer.