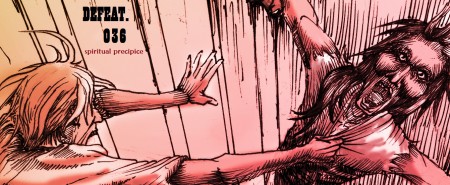 [DEFEAT. is Rendar Frankenstein's newest fucking story.   Presented in weekly episodes, the novella tells the tale of Daryl Millar - a hero who is guaranteed to die. For fans of pop culture, sci-fi, war epic, fantasy, and sick original art]
Daryl got out of the car, thanked his grandfather for the ride, and assured him that he wouldn't need any further transportation. "Thanks Gramps, but after I see Riff, I think I'll just walk to 8-Bit's house. It's nice out and I could use some fresh air."
"No problem, kid." Gramps gave the Buckley residence a once over, stifling his concerns about its dilapidated state and the as-of-yet-to-be-fixed window. Then he remembered the previous evening's confrontation with Lieutenant Buckley. "You sure Riff's dad is at work?"
"Yeah, Riff always has to walk to school on Thursdays because his dad has the earlier shift."
"All right. But if he shows up, I want you to excuse yourself and head home. No need to stir the hornet's nest."
Daryl made his way to the front door and would've rung the bell if the door had been closed. But it was left ajar, no doubt the direct result of Larry Buckley drunkenly stumbling to his cruiser in the hopes of getting to work on time. As such, the hero walked into the house and called out to his friend.
"I'm in my room," Riff groaned slumberously.
After climbing the stairs to the second floor, Daryl let himself into Riff's room. The headbanger was in bed, doing his best to recover from his recent trauma.
His eyes were blackened.
His nose reset.
His spirit broken.