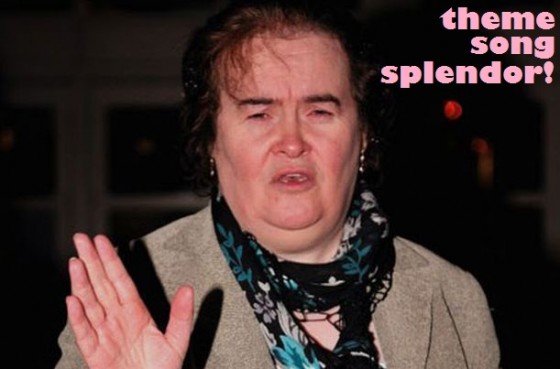 [

WEEKEND OPEN BAR

: The one-stop ramble-about-anything weekend post at OL. Comment on the topic at hand. Tell us how drunk you are. Describe a comic you bought. This is your chance to bring the party.]
I want you to consider the following premises, keepin' an eye peeled for similarities.
When a West Philadelphia-born prince ascended his Californian throne, he sang a little ditty. That time when the boxer prepared to avenge his friend's death and defend America's honor? You bet your ass he was jammin' to some butt-rock. And when the world was ushered into the era of Y2J, it was greeted by the dulcet tones of a computerized countdown and processed vocals.
The conclusion: theme songs kick ass.
Hell, if you think about your favorite movie, TV show, or video game, chances are that it features some sort of soundtrack. Moreover, it's also a solid bet that there're clear-as-day, identifiable-as-hell themes woven throughout said soundtrack. While you're experiencing this bit of entertainment, themes amplify the emotion at hand, whether it happens to be jubilation or intrigue or suspense. So affective, in fact, are theme songs that hearing them out of context can still teleport our consciousnesses to the space-time junctions of entertainment-inebriation.
Fighting Sephiroth.
Being devoured by a Great White.
Swoonin' over a man with a license to kill.
If you count yourself amongst the OL faithful, then some of your life's most consequential moments have probably been accompanied by a soundtrack. As such, I encourage you to respond to one or both of this weekend's OPEN BAR prompts:
[What is a theme song you dig?][What would you choose for your own theme song?]