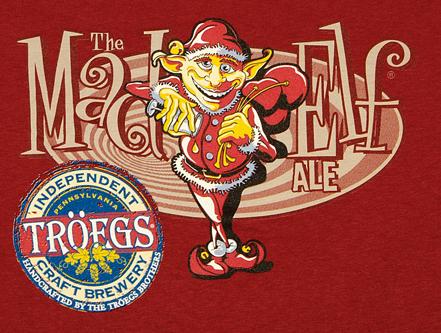 Not only is it Friday, but it's the Friday after Thanksgiving. As such, there are certain expectations to be fulfilled — specifically, the eating of leftovers and the continued consumption of alcohol. Starting with a hearty bowl of stuffing for breakfast, I've made sure to eat something at every opportunity, paying special attention to desserts. More than content with my gorging, I really wanted to find a good brew for the review.
Therefore, I made sure to not rush through the weekly process of beer-searching. I took my time at the store, actually reading labels and trying to figure just what type of beverage I'd want to drink. My first inclination was to find some sort of coffee/espresso based lager; however, the staff informed me that such a product was not stocked and I was therefore SOL. Resolved to find something tasty, I continued the quest.
I then remembered that today marks the first day of the Christmas Season: "A holiday-brew will do," I bellowed in Seuss-mimicry, "but how to pick a drink that's sick?" Again, I wanted to be levelheaded about this decision, not jumping at the first six-pack with clever packaging.
Well, it wasn't the first to grab my attention, but I'd be a liar to say that I wasn't drawn to The Mad Elf Ale because of the label: a cartoon elf is drunkenly grasping a goblet while slinging three giant cherries over his shoulder. Hell, who doesn't love elves? Legolas has such amazing hair. Hermey is an amazing dentist. And of course, Buddy is great at putting the star on the top of the tree:

While interested, I made sure to actually read the box and see what the beverage is all about. Looking closer, I realized that the ale is a product of the Tröegs Brewing Company, whose Tröegenator earned high marks about a month ago. I then discovered that the drink is "brewed with honey and cherries," while touting an impressive eleven-percent ABV. Given the positive nature of my previous experience with the Tröegs, I decided to go for it.
I was cheerful, pleased to have found such a good-looking prospective brew. When I got to the counter, I took out the fifteen dollars that remained in my wallet and prepared to pay; needless to say, I was quite  taken aback when the cashier told me that the six-pack was going to run me sixteen dollars and change.
Holy shit. Isn't today Black Friday? You know — the one day with such good sales that my mom wakes up at 3:30 AM to find Chewbacca action figures and people across the country murder each other! And yet, somehow, I still get stuck paying more than sixteen bucks for a six-pack?! Madness! (Sparta!)
In any case, I busted out  the `ole debit card and finished the transaction I had been so eager to start. Once home with the beers, I decided to do hit up the brewery website before beginning the tasting. The Mad Elf Ale, in their words:
The Mad Elf, a cheerful creation to warm your heart and enlighten your tongue. The combination of Cherries, Honey, and Chocolate Malts delivers gentle fruits and subtle spices. Fermented and aged with a unique yeast, this ruby red beer has significant warming strength that underlies the pleasant character of this intriguing yet delicious Ale. The Mad Elf, a jolly and delicious beer for the Holidays.
It still all sounded so good — time to find out for myself. Pouring it into a glass, I was especially struck by the ale's color. Yeah, both the label and the website had clued me into the fact that the beer is "ruby red," but seeing the cranberry-juice looking liquid for myself was different altogether. The aroma of the brew was slightly fruity, while still giving the drinker a clear warning about the elevated alcohol content. With the auxiliary aspects of the beverage being well above average, I was eager to pour it into my gullet!
Truth be told, The Mad Elf Ale might be the best (specifically) holiday beer I've had. The ale is extremely well balanced, robust with flavor while not being too heavy in the mouth. It's not syrupy texture-wise, but still packs a punch on the tongue. The tartness first detected in the aroma is definitely pleasant, as is sweetness and a hint of some sort of spice (still can't put my finger on it). Although the beer goes down smoothly, I might just caution potential drinkers to remember that with an eleven-percent ABV trying to polish off all six bottles may be dangerous. Or maybe not — I shouldn't assume that alcoholics don't read the brew review.
I had a vision recently, seeing myself drinking in a Christmas sweater only to pass out on my family room couch and wake up a sloppy/sweaty mess. If I take the initiative to make this a reality, I am most certainly going to summon The Mad Elf Ale.
Yes, the price was pretty steep. But the flavor was damn amazing. Final Verdict: A-