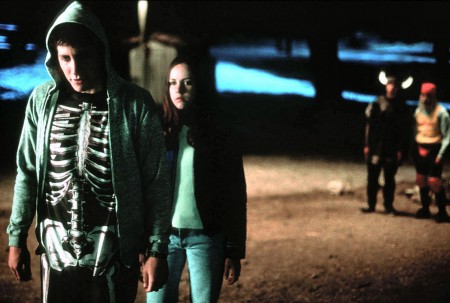 [OCTOBERFEAST  is the greatest celebration of the year, a revelry dedicated to pop-culture's most nutritious Halloween detritus. Plastic screams and artificial sweeteners have never been more bountiful. In the old country, villagers refer to the extended party as  Satan's Snacktime]
At the turn of the century, those of us fortunate enough to have survived the apocalypse found ourselves in the unenviable position of having to reconstruct society. The first post-apocalyptic years were full of tumult, with chaos seeping into every aspect of daily living. With few raw materials at our disposal, we frantically grabbed what we could and began assembling entertainment-jalopies. Sometimes, the pieces came together to create something beautiful.
So far-reaching was this poltergeist of piebald reassembly that not even the oxidized gates and sheep's blood fountains of the OCTOBERFEAST could effectively ward it off. No, even the hallowed season of candied fright and salubrious Satanism fell victim to this malignant spirit. The surrealism of living after the End of the World, the yearning for yesteryear's comforts, and the attempt to continue humanity's narrative traditions writhed about in a baby-oiled orgy lasting throughout the tenth month of the year.
Perhaps the most infamous pregnancy attributable to this orgiastic blending is Donnie Darko. Read the rest of this entry »