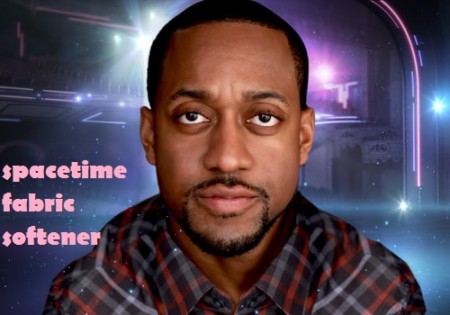 Let me tell you a story that my superiors at the Time Guild wouldn't want you to know.
A couple of days ago, I decided that I wanted to travel to the year 195,000 BCE. Since it was the weekend, I had to use my personal time-machine, which I actually prefer to the stodgy contraption they allot me at the office. However, without the Guild's temporal disinhibitor-ray, it was up to me to craft a suitable concoction. So after filling my gut with three liters of Pepsi Max, taking a shot of bourbon, and huffing paint thinner for the better part of an hour, I stumbled into my broom closet and passed out.
There you have it – my secret recipe for spacetime fabric softener.
Anyways, when I came to I was in the dense jungles of prehistory. Looking skyward, I saw a pterodactyl soaring majestically. Shielding my eyes from the sun, I looked to the ocean just in time to catch a glance of a megalodon snapping a leviathan in half before submerging once again. And on the path before me, two cavemen bros riding their steeds, a saber-toothed tiger and a mastodon, respectively.
The caveman on the saber-toothed tiger was the first to see me, and he quickly pointed me out to his buddy. "Daniel, check it out! It's another one of those dudes from Beyond the Wheel." He waved to me invitingly, "C'mon over, man!"
I was nervous, but I obliged.
The other caveman hopped off his mastodon and shook my hand. "Hey there! My name's Daniel and this is my friend Hollis. Who might you be, Beyonder?"
"Pleasure to meet you, Daniel and Hollis. My name is Rendar Frankenstein and I'm from the year 2012. Well, actually, I'm originally from 1986 but I've caught up to 2012, and I guess that's when I'm not shifting all over. I've been to a lot of points in the 20th century, and hell, I've even gone back Plato's cave and the Garden of Eden and beyond that. You guys ever see 2001?"
Blank stares.
I laughed. "My bad! Anyways, what're ya'll up to?"
With a pat on my back, Hollis clued me in. "We're actually about to meet back up with the tribe and raid a T-Rex nest. With those things on your feet," he pointed to my hi-tops, "you could really help us out. You want in?"
Long story short – dinosaurs were murdered, the caveman tribe was victorious, and I got to start off today by having a prehistoric omelet.
Just don't tell my superiors at the Time Guild. I need this job, and they're lookin' for a reason to can me.
–-
Welcome to the Monday Morning Commute! I'm going to list off the various ways I'll be salvaging my (dwindling) sanity during the workweek. It's then your duty to hit up the comments section and share your own recipe for mental-refuge. C'mon, ain't this the whole point of an Internet community?
Let's stab this dino in the heart with a fuckin' bone-shard dagger!