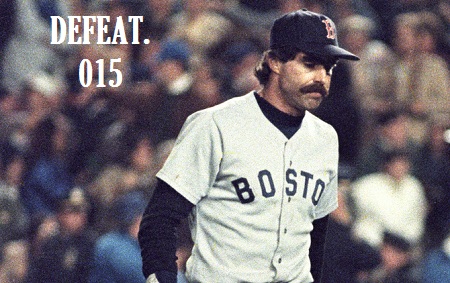 [DEFEAT. is Rendar Frankenstein's truest attempt at fiction.   Presented in weekly episodes, the novella tells the tale of Daryl Millar - a hero who dies at the intersection of pop culture, science-fiction, war epic, and fantasy]
The day had been going especially well for 8-Bit. He had aced his physics exam. Daryl had returned his copy of The Dark Knight Falls without a single crease or blemish to be found. And the evening held the prospect of a trip to the circus. So, it was with an understandable enthusiasm that the teen entered the bathroom to wash his hands before lunch. The pre-lunch routine was adhered to daily, if only for a comforting sense of continuity.
Unfortunately, Brady Moore also knew of this routine. Hiding in a stall, Brady waited for 8-Bit to be about halfway through his hand-scrubbing before making a move. Although not really a consideration anyways, the fully lathered hands would prevent any attempted resistance; yes, he was a prick of an inexcusable magnitude, but Captain Moore's strategy was commendable in its own way.
Kicking open the stall door, Brady terrified his prey. With a bewildered eye turned over his shoulder, 8-Bit knew that nothing good was on the horizon. Brady spun the gamer around. Grabbed him by the collar. lLifted him off the ground. Shoved him against the wall.
"Listen here, you fucking dork — I don't like you."