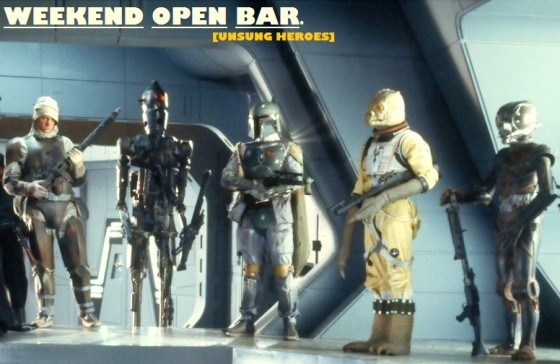 [

WEEKEND OPEN BAR

: The one-stop ramble-about-anything weekend post at OL. Comment on the topic at hand. Tell us how drunk you are. Describe a comic you bought. This is your chance to bring the party.]
It's time to sing the praises of the unsung hero.
That's not to say that there isn't something wonderful about zest and panache and pageantry. `Cause there most certainly is. In fact, some of the best entertainment consists of the bombastic acts of conspicuous heroes. Take the guitar solos out of Megadeth's Rust in Peace and see how much headbanging you do. Don't let Tony Stark drink and bang babes and fly in his metal-dude suit, and feast your eyes on a rich nerd. Hell, would you even watch basketball if the NBA outlawed slam dunks?
I certainly wouldn't.
Still, that's not to say that all heroes are of the sweep-pickin', philanderin', slam-dunkin' variety. There exists another sort, a breed concerned less about the spotlight and more about gettin' the job done. Y'know the type — the guy quietly keepin' to himself while the hero of the day slugs champagne and smacks ass and gets high-fived. These taciturn troopers may not be the first to spring to mind, but when we consider their contributions it's impossible to deny their importance.
What I'm tryin' to say is that there are unsung heroes who deserve our praise. If you really love the Beatles, send George Martin some flowers. If you think Michael Jordan's the all-time greatest, get Scottie Pippen a Dunkin Donuts gift card. And if you think Tarantino is an unparalleled master of cinema, find a way to pay tribute to Sally Menke.
Even Moses would've been a useless sack of shit without Aaron.
[Which unsung heroes deserve to have their praises sung?]