Monday Morning Commute: CLONE v. TULPA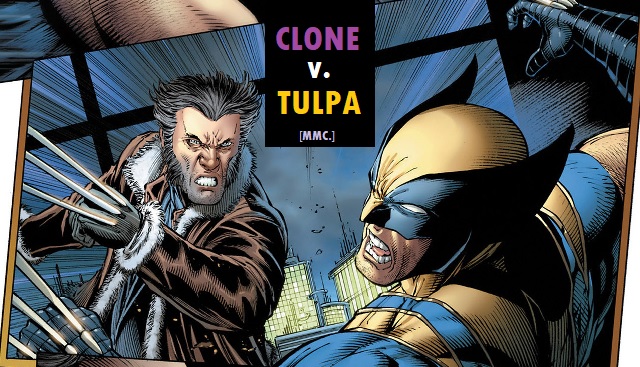 I'd never felt more torn in my life.
On the left, brandishing a butterknife still covered in sow's blood and screaming the Lord's Prayer in Spanish, was my clone. My genetic duplicate who'd been paid for with the sex-worker money I'd earned during my gap year in Amsterdam. He'd been a good friend, in spite of the the booze and pills and the gambling he'd foisted onto me.
I really didn't want to see my clone die.
On the right, wearing a bullskin loincloth and spitting out kerosene he'd been swigging from an old tin can, was my tulpa. He'd been there for me when things got really tough with that woman in the Amazon. He'd been more than an ayahuasca fever-dream come to life, he'd been a confidant, even if he'd had a thing for midnight-slaughterings of local villagers' livestock.
I really didn't want to see my tulpa die.
But when you're feelin' like you're watchin' the best parts of yourself tear each other to shreds, I find that — even if it hurts — it's best to just step aside. Watch out for the splatter. Crack a beer. Wait for it all to be over.
And take solace in the fact that no matter how it all goes down, you'll get to walk away.
—-
Welcome to the MONDAY MORNING COMMUTE!
We've got my drivel-fiction out of the way, so let's move onto the real task at hand — sharing the stuff we'll be checking out during the week! I'll go first, then you hit up the comments section and tell everyone what movies, TV shows, podcasts, video games, bottles of booze, pinball tournaments, or other ephemera you'll be using to curb the sting of the workweek!
Rock? Yes! Roll? Forever!
—-
Enlistin' so that I can join the INFINITY WAR! This movie is everything to me right now!

—-
Listenin' to the EVENING AT THE TALK HOUSE radio drama, as hosted by Intercepted!

—-
Blastin' the new TIMECOP1983 and hopin' for more!

—-
Singin' high praises of Tom King after finishin' VISION — now huntin' for the first seven issues of MISTER MIRACLE! (aka I'm late to the party but glad it's still rockin'!)

—-
Showin' a class X-MEN: DAYS OF FUTURE PAST to wrap up a unit on the X-Men!

—-
Tellin' anyone who'll listen to check out the (finally released) studio version of Prince's NOTHING COMPARES 2 U!

—-
Hopin' the BRUINS advance to the next round! (Did I just jinx it?!)

—-
Blastin' PANTERA pretty much any time I'm drivin'!

—-
Oh, who am I kidding? It's all about AVENGERS 3, goddamn it! I'M GOING TO BE WEEPING BEFORE, DURING, AND AFTER INFINITY WAR! LONG LIVE THE MCU! WE COMING FOR YOU, THANOS! LET'S GOOOOOOOO!!!!!

—-
*Ahem*
So, that's my week! What's YOUR week all about?