Monday Morning Commute: Moonrock and Roll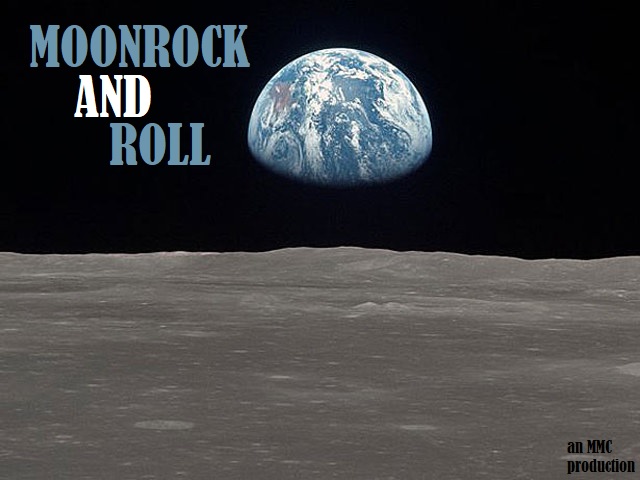 Y'can set out to crack the moonrocks a hundred times – hell, a hundred thousand times – and it'll never stop bein' awe-induncin'. Here I am, Earthborn Nobody, crackin' rocks on the moon. The fuckin' moon! And y'look down at that chubby blue dot and get weak in the knees when y'think of all the beauty goin' on down there.
First kisses and guitar lessons and autumn breezes coolin' the backs of necks that've been sweatin' all damn summer.
And y'just get enough strength back in y'knees to keep standin' – hell, I'll be honest, in normal gravity I'd probably have to have me a good five minute sit-and-cry – and y'get back to work, aimin' y'pneumatic pickaxe at big clumps of lunar basalt and turnin' `em into small clumps of lunar basalt. And then Charlie or Connie or Debbie or Dan'll come on by to gather up whatever it is y'managed to crack, and then they'll go on and rover `em over to the sortin' station.
And that's when y'take another minute or ten to yourself, to catch y'breath and think `bout how y'ain't winded `cause of the work but `cause of the sight of that blue wonder in front of you, and y'know that it's real and honest down there. And hell, y'know that y'took this goddamn job `cause you're jus' tryin' to get by and y'know y'probably goin' to die just as broke and untethered – maybe even more broke and more untethered – than when y'started the gig, but goddamn it y'gettin' to see somethin' most never even think to imagine.
To see humanity itself from the outside, to bear witness, it's a fuckin' gift. To look down and see the whole thing unfoldin' before y'eyes, it's overwhelmin'. Beautifully overwhelmin'. Typhoons and military coups and hands takin' food out of hungry mouths? Sure, y'can't deny it. But there's also love letters and reunions and movie theaters and acts of forgiveness and comfortin' sunsets watched from hospice windows durin' final moments.
And honestly? I got no clue how it'll all shake out in the end for us, no goddamn clue if the ledger'll be red or black.
So I jus' crack as many moonrocks as I can, bask in the fact that I even get to take part in this thing, and do my good goddamn best to just roll with it.
—-
This is the MONDAY MORNING COMMUTE!
What you just read was nonsense from my brain. In order to create that sort of nonsense, I need to make sure that my brain is filled with other nonsense. So! I'm going to describe some of the nonsense I'll be checking out this week, and then you hit up the comments and share what nonsense you'll be consuming.
Nonsense! Nonsense! Nonsense!
3! 2! 1! Let's go!
—-
Getting through the workweek by remembering that on Friday I'm seein' IT!

—-
Using JOHAN JOHANNSSON to score most of the scenes of this week!

—-
Using BLUE CHIPS 7000 to score the action scenes!

—-
Rockin' 3rd ROCK FROM THE SUN as bedtime-viewing!

—-
Increasing my COFFEE consumption to power through the return to work!

—-
Increasing my BOOZE consumption to cope through the return to work!

—-
Celebrating LABOR DAY by sitting around, eating, getting neurotic about the oncoming onslaught of work, and hopefully going to bed crazy early.

—-
Haphazardly reading some THOREAU to keep my head on straight!

—-
So that's my week — coffee and booze and rap and American Transcendentalism and Stephen King and 1990s sitcom fodder. Business as usual.
What're you up to this week?