Monday Morning Commute: One More Packet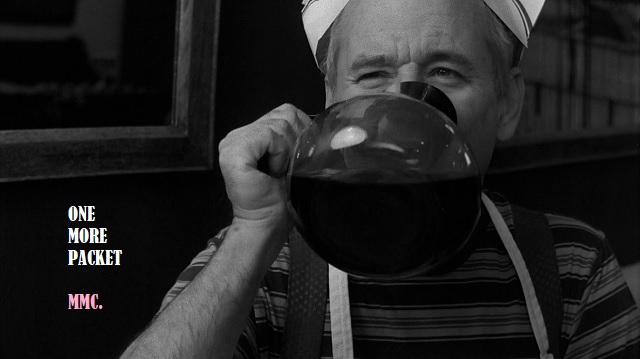 I only needed one more packet.
My palm couldn't stop my nosebleed any longer. The old lady behind the counter looked at the rivulets dripping into the crook of my elbow. She shook her head. I kept pleading.
"Please, lady, y'gotta help me out! I only need one more packet!"
"Sorry, Bucko, but the policy's to stop servin' after seven packets!"
"C'mon, you already gave me nine!"
"That's right, I already broke policy for your ass!" She looked at the ceiling in that way mastered only by crusty diner waitresses with stories to tell. "Now, I'll keep slingin' coffees your way all night, and we won't have to have any more frustrated words with — or cross looks at — one another."
"But, but –"
"No butts, no asses, and the only titty will be a tough-titty for you!" She slid an entire carafe of coffee in front of me. "You wanna light your brain on fire? Try doin' it with that! But I ain't givin' another goddamn packet of Nestle Cocaine."
I only needed one more packet.
—-
This is the MONDAY MORNING COMMUTE!
Posted above is some of my patented drivel fiction. I hope you enjoyed it, but don't blame you if you didn't. Posted below is a list of some of stuff I'll be checking out this week. Y'know, things to [excite/expand/extinguish] my brain. After you check out my entertainment itinerary, hit up the comments section and share your own.
TALLY-HO!!!!
—-
Doing my Constant Reader duties by finally makin' my way through IT!
—-
Rediscoverin' the metal in my veins by thrashin' to REVOCATION!
—-
Encouragin' everyone to watch SUBURRA after checkin' out this morning! 
—-
Celebratin' a favorite franchise by subjectin' myself to the DARK TOWER movie!

—-
Re-readin' some chapters of MOBY-DICK!

—-
So there we have it! My week consists, at least in part, of Stephen King nonsense, heavy metal nonsense, Netflix nonsense, and Melville nonsense!
What nonsense are you checking out this week?