Monday Morning Commute: No Skills. No Supplies. No Signals. No Worries.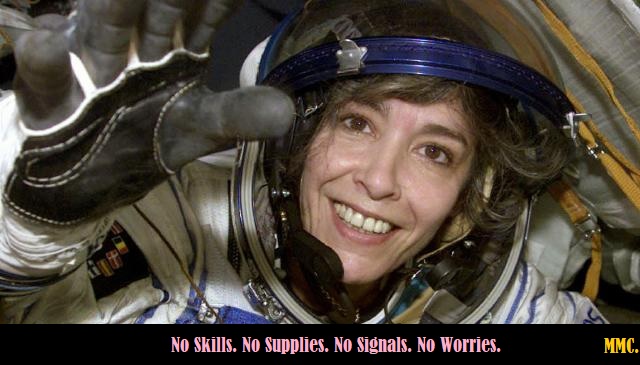 It was a brand new day on a planet as old as time itself.
Edie stumbled off the starcruiser's ramp, footing as unsure as the color of the soil. Barely a glimpse at the atmospheric readings on her forearm-gauge and Edie was tearing off her helmet. She hadn't travelled across the stars to gaze upon another planet through a hermetic seal.
Standing at the top of a ravine,Edie looked down at the landscape and gasped. Fields of silver wheat swayed in an electric breeze. Twin rivers of indigo fog raged into each other. A lone tree's leaves burst into flames, shriveled, bloomed, and then ignited again.
"Fuckin' brilliant."
Edie wasn't sure that she had the skills to repair the starcruiser herself. And she wasn't sure how much of her supply compartment'd survived the crash. And she wasn't sure if her distress signal'd ever be picked up.
No skills. No supplies. No signals.
And yet, having actually survived the voyage itself, Edie couldn't worry. She couldn't not smile. After all, there're worse fates than dying in the midst of alien beauty.
—-
Welcome to the MONDAY MORNING COMMUTE!
This is the regularly-scheduled feature for discussing what we'll be checking out in the following week. After presenting some drivel-fiction (see above), I give you the prospective entertainment-highlights of the upcoming days. Then, you hit up the comments section and share what you'll be consuming.
Yes, it's basically digital show-and-tell.
Let's rock!
—-
Goin' for the 70MM screening of: DUNKIRK!

—-
Gettin' my podcast fix by checking out: HOMECOMING!

—-
Reliving the glory of Furiosa by watching: ATOMIC BLONDE!

—-
Jamming out to: Jeff Buckley's GRACE!

—-
Losing my mind while watching: RICK AND MORTY!

—-
So there we have it — movies and cartoons and music for me! What're you up to these days?