NASA detects the conditions for life on Saturn's moon Enceladus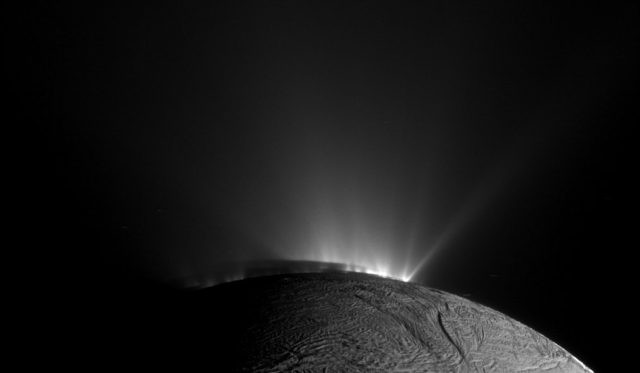 NASA is teasing some potentially enormous (ENORME!) findings on Saturn's moon, Enceladus. Like, you know, the conditions for life.
Could icy moons like Saturn's Enceladus in the outer solar system be home to microbes or other forms of alien life?

Intriguing new findings from data collected by NASA's Cassini spacecraft suggest the possibility.

Plumes of gas erupting out of Enceladus — a small moon with an ocean of liquid water beneath its icy crust — contain hydrogen. Scientists infer a lot from that: that there are hydrothermal chemical reactions similar to those that occur at hot fissures at the ocean bottoms on Earth.

On Earth at least, hydrothermal vents thrive with microbial life, offering up the potential that icy moons far away from Earth — dubbed "OceanWorlds" by NASA — could be habitable.

"That's just going to be a tremendous opportunity to test our theories and see if there's life there," said James L. Green, director of planetary science at NASA.
This is the latest discovery by Cassini, a spacecraft that is heading into its final months after 13 years of exploring Saturn, its moons and rings. On April 22, Cassini begins a journey that will take it between the planet and its rings for 22 orbits before its mission finally ends with a crash into Saturn's atmosphere in September.

Cassini's findings also show that levels of carbon dioxide, hydrogen and methane measured in the Enceladus plume were out of equilibrium, an imbalance that could provide an energy source that organisms could tap into for food, according to a paper published Thursday in the journal Science.

"It indicates there is chemical potential to support microbial systems," said J. Hunter Waite Jr., program director for the space science and engineering division at the Southwest Research Institute in San Antonio and lead author of the Science paper.

In a separate paper published Thursday in The Astrophysical Journal Letters, another team of researchers using the Hubble Space Telescope once again spotted what appears to be a similar plume rising from Europa, one of Jupiter's big moons that also possesses an ocean beneath an icy exterior.