This week my prayers were finally answered. After weeks of ceremoniously burning copies of Too Human as sacrifice to my polygonal God, the games industry has finally started moving again. This week's Games Con saw a whole host of sexy new trailers and announcements, including the likes of Star Wars: 1313, Metal Gear Rising and the impressive Remember Me.
Now that you've watched those, here's my selection of the not quite so prominent goings-on in the games industry, or at least the happenings that won't just result in two paragraphs of me gushing like a schoolboy.
Stats>Horror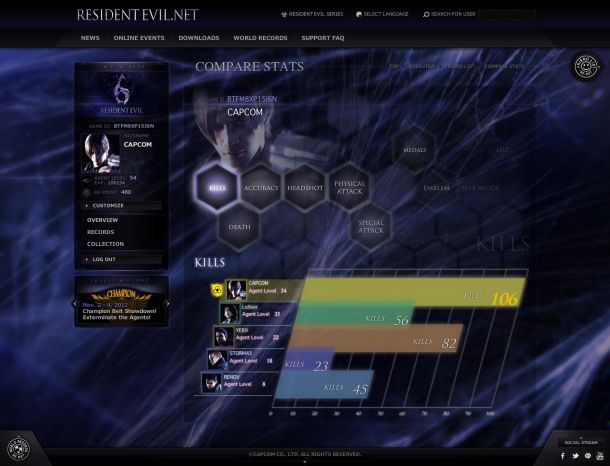 It seems like every other day I switch my computer on and Resident Evil 6 gets some new features. Seriously, these guys are going HARD! Ada Wong. Bam! Multiplayer. Bam! Some all-seeing eye information vault that tracks and compares your stats worldwide. Bam! That last one is even offering up the ability to receive tweets if your high-scores get topped and allow you to track your stats on your smart phone.
ResidentEvil.net will also bring along challenges, community events and ethereal online championship belts that will pass through your imaginary hands. It's all in the name of interconnectivity/enhanced experience features, or whatever bullshit executive buzz phrase is en vogue over at Capcom this week. I'm totally cool with a bunch of free, possibly amusing features, but if they don't bring the horror, then there'll be hell to pay.
Ultimate pessimist outlook: this is just another chapter in the book; How We Destroyed Genre Games and Reduced The Entire Medium to a Stinking Homogenized Shit-Pile by THE GAMES INDUSTRY (collective mega-brain super-consciousness). You know, because they're trying to fuck up Dead Space 3 , too.
Repress your pesky biology with an $80 mouse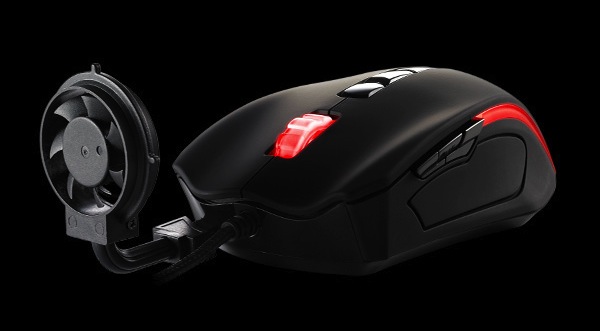 What's that moistness? The remnants of the day's sandwich? No, it's more gross than that, less edible. That must be some stinking sweat on my palms. Goddamn this useless shell and its leaking pores and orifices. I long for a clean, productive android shell. Until then, the commercial world offers a multitude of handy products to both enhance and repress our humanity.
The next best thing to total pore removal is a mouse that cools your hand down as you use it. That's about as factual as it gets. Imagine the soothing breeze as you browse. Breezebrowse™ . I'm locking that one down. But I digress. Just imagine it; your hand; cool; productive; efficient and above all, clean.
"The patent pending design promises to keep noise down to a sub-environmental 21.7dB, while delivering an airflow of 2.6 cubic feet per minute — which, if you're lucky, should be enough to not only keep your digits dry but also reach your palm. The fan can alternatively be removed, in which case you'll be left with a 6,500 dpi laser sensor, an adjustable weight of up to 22.5 grams, "military-grade" grip coating and an abundance of natural oils."
Never before did I imagine that a mini 6000rpm fan could make me so happy. I feel disgusting without this.
GOLD NEOGEO X GOLD NEOGEO X GOLD NEOGEO X GOLD NEOGEO
Reading the press release for the NEOGEO X GOLD is the most unsettling experience I've had all year. I tried to filter out the information in order to regurgitate it here for you, but instead what I suffered was a brief, concentrated burst of hyper-dyslexia. The words shifted around the page, my eyes struggled, black spots appeared and all I could make out, in big bold letters was NEOGEO X GOLD NEOGEO X GOLD NEOGEO X GOLD NEOGEO X GOLD NEOGEO X GOLD NEOGEO X GOLD NEOGEO X GOLD NEOGEO X GOLD NEOGEO X GOLD NEOGEO X GOLD NEOGEO X GOLD NEOGEO X GOLD NEOGEO X GOLD NEOGEO X GOLD NEOGEO X GOLD NEOGEO X GOLD NEOGEO X GOLD
Witness the horror for yourself, by clicking here, where you can also read the list of 20 pre-installed titles. Even more head-crushingly nightmarish are the logistics of the device: forcing my stupid ass to re-read the information 4 times over, and I'm still not sure I know how it works.
From what I can gather, for around $200 the NEOGEO X GOLD will provide you with a hand-held Neo Geo that boasts of a spiffy 4.5 inch LCD screen and the 20 pre-installed games. Then, the home-console-looking part will allow you to hook it up to a TV via a HDMI and put your included arcade stick to good use. OK, it's starting to sound good now; Metal Slug, Fatal Fury and Samurai Showdown II are good enough reasons for me to overcome my temporary dyslexia and just throw my money away this when it releases worldwide on December 6th.
Contract killing from the comfort of your chair

What does it say about me that I find the world of contract killing so enthralling? Something bad I'd wager. Luckily for society at large, this particular power fantasy has always been catered for by IO Interactive's Hitman games.
These methodical, detailed and amusingly dark titles have been amongst my favourite games for over a decade now and the wait for Hitman: Absolution has been far too long. In an age of multiplayer being shoe-horned into just about every available title, Hitman: Absolution getting some flavour of online play is of little surprise. Thankfully, IO have put their trademark ingenuity to good use and offered up what sounds like the coolest multiplayer since Kane & Lynch's semi-successful bank heist simulator.
"Contracts is a new online mode which allows gamers to create and share their own custom hit challenges within the Hitman: Absolution game. Choose a level, targets, weapons and then set your rules for completing your contract based on time, style and witnesses. There are no clumsy editors or complicated mechanics to learn; in Contracts you simply play to create and as Contracts is an asynchronous mode, you can compete against friends at any time, regardless of whether they are online. Hitman: Absolution will also ship with many pre-set Contracts, each designed by the very best assassins at IO Interactive."
The trailer tells all and appropriately prevents me from crotch-frothing vulgarity and reverting back to my boner as a crude metaphor for enthusiasm. Lucky you.
Day-Z coming to consoles offers me the easy way out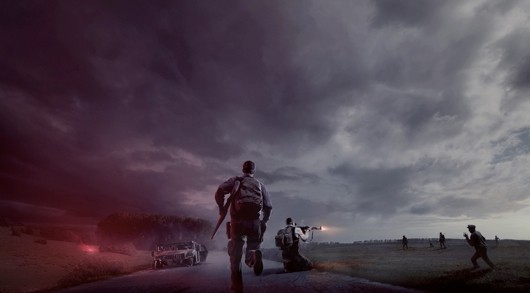 Sitting comfortably alongside my passion for virtual, methodical murder, is my lust for survival. I'm a fool for any game that has me battling against the elements and struggling to survive: zombies and post-apocalyptic wastelands are my kryptonite. Basically, I'm talking about Left 4 Dead and Fallout 3, seeing as so few titles in this genre actually live up to their potential. However, since my first viewings of playthroughs uploaded to Youtube, the Arma II mod: Day-Z has had me crushing hard.
Day-Z is the closest thing to a true zombie survival game that I've ever seen; being as its focus on limited resources and optional co-op really bring humanity to the forefront of the experience. Unfortunately, I'm talking from the standpoint of a mere spectator, with the title only available as a PC mod at the moment. Luckily for me, and anyone else who likes their games neatly packaged and spoon-fed, there are talks to bring Day-Z to consoles.
Speaking at this week's GamesCon, Day-Z project lead, Dean Hall, had this to say:
"You're not going to put it on the consoles if you're only going to sell 100,000 units or something like that," he said. "DayZ will be driven by its PC development and it will innovative on that. And, once we're at a point, we'll take it and do a Mac version, 360 and PS3."

Asked if he's met with any of the console developers, he immediately chimed back, "We're meeting with them here."
Make this happen.