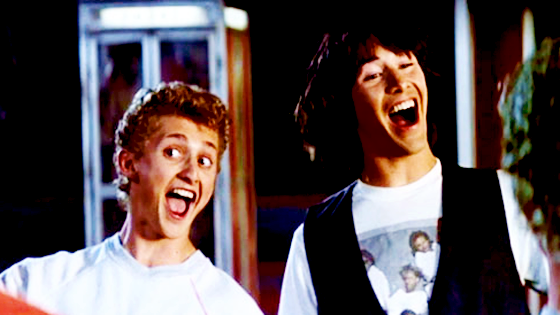 C'mon! I can't be the only one who is excited that Bill & Ted 3 is happening. Especially since they've tacked on a pretty gnartacular director on to helm the antiquated son of a bitch.
Maybe when we first heard about the possibility of a third Bill & Ted, it sounded like an outlandish idea. As Alex Winter and Keanu Reeves have continued to offer little updates, however — and as more and more '80s and '90s properties have found their way to the big screen — it's started to seem more and more plausible. And now the project's taken one more big step forward, with Dean Parisot (Galaxy Quest) just hired to direct.

Winter announced last year that original Bill & Ted writers Ed Solomon and Chris Matheson had just completed the script, but as of this past spring the project was still waiting on a green light. Parisot's hiring is the first major piece of progress we've heard about since then. Parisot's worked primarily in television over the course of his career, with occasional forays into moviemaking. His other big-screen credits include Home Fries and Fun with Dick and Jane.

Plot details for Bill & Ted 3 have not been revealed, but we've known for some time that it would be a straight sequel rather than a reboot or remake. Winter and Reeves have previously said that the new film would check back in with the lovable slackers, now well into middle age.
Tubular!