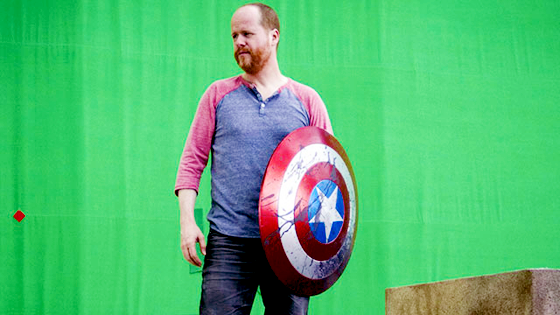 Joss Whedon didn't just sign on to write and direct Avengers 2. Naw, son! Naw, daughter! The motherfucker has signed on to work exclusively with Marvel through the three years following the Mayan apocalypse. I couldn't be happier about this if I was reading it while spraying whipped cream on my nipples and slapping myself on the ass with a spatula. And we all know how happy that makes me!
While, the the big news yesterday was that Joss Whedon would be returning to write and direct "The Avengers 2," perhaps even more importantly, Marvel are using his talents to guide their future for the next few years. Call it a godfather role or consultant or (most likely) executive producer, the comic book house seem to be ensuring that the high bar raised by "The Avengers" continues to be a standard by which everything else is met. "Joss Whedon has signed an exclusive deal with Marvel Studios for film and television through the end of June 2015," Marvel said in a statement yesterday. "As part of that deal, Whedon will write and direct Marvel's 'Avengers 2′ as well as help develop a new live action series for Marvel Television at ABC.  He will also contribute creatively to the next phase of Marvel's cinematic universe."

It's those latter points that are very interesting. While "Iron Man 3" is already off and running, with "Thor: The Dark World," "Captain America: The Winter Soldier," and "Guardians Of The Galaxy" all with firm release dates, and inevitably building to "The Avengers 2″ which is looking like a no-brainer for a first half 2015 release, it's probably safe to suggest that Whedon will be taking a very close look at how the elements build up and are aligned for his mega team-up sequel. Will he be writing scripts? We doubt it, but sitting in on story meetings and making suggestions? That seems more likely. It will also be interesting to see where the Marvel TV world goes, and how (if at all), it will tie into anything on the big screen. Could Marvel be looking to do something as ambitious as Ron Howard's developing "The Dark Tower" with story threads crossing over from television to the movies? Or will it be a platform for the B-level characters that aren't quite multiplex ready? Time will tell.

Either way, Marvel phase two now has an author at the helm to oversee things, and that can only be a positive turn in terms of continuing to build and grow the quality of the movies and the brand. It definitely gives Whedon a huge sandbox to play in, and it should be interesting to see what risks he's able to take or what changes and tweaks he may implement. Exciting times ahead indeed.
The Whedon is my shepherd!