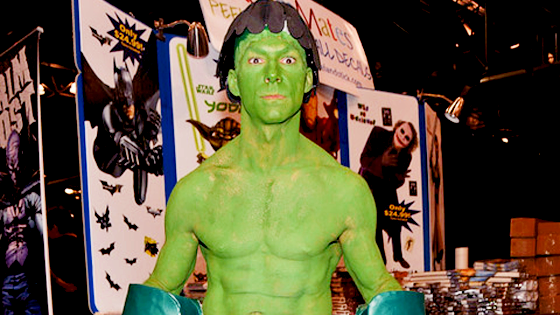 The whole fucking Hulk on TV and in the movies but being two different universes – maybe – and two different actors – definitely- hurts my fucking skull. It doesn't take much to hurt my skull. Children. Math. Squirrels. So trying to comprehend the complexity of the Bruce Banner multi-medium conundrum gets the nose bleeding. Can't this shit be simple? Maybe? With all of this incestuous riddling, I'm finding it hard to get excited for the TV version of the Hulk product. Maybe del Toro knows this, and that is why he is tweaking my nipples with sweet nothings.
The post-Avengers Marvel project we're perhaps most excited about — sorry, Thor 2and Captain America 2 — is the promise of aHulk TV series produced by Guillermo del Toro. But the Pan's Labyrinth director is often followed with a list of forever-in-development projects, so imagine our surprise when he announced that the show will go on! In a recent interview withCollider, the director promised that his Hulkprogram is still moving forward:

I had one meeting with Marvel after Avengers and we had a very, very good chat. We have a writer that we want to bring on board, a very, very concrete name. I can't reveal it, but we want to wait for that writer. It's a writer who is otherwise engaged. So right now we are in a holding pattern until that writer becomes free. Then we're going to do a new draft of the script.

Good, we'd rather him wait for the right scribe than just whoever was available. Another interesting fact: del Toro revealed that he became very close to directing both Thor and theWolverine sequel that's currently filming.