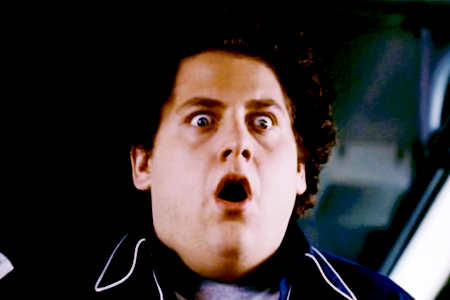 Ever since the trailer for Django Unchained dropped, I've been riding a bulge of enthusiasm for the flick that is half-part awesome, half-part uncomfortable. Even Jonah Hill and his tired schtick couldn't depsyche me.
At the end of last year Jonah Hill mentioned that he was offered a part in Quentin Tarantino's Django Unchained, but had to pass due to scheduling issues. Well, something changed, because now he's in the film for real.

So who does Hill play? Deadline says only that it's not the role he was initially offered — that role might have been Scotty Harmony, which is a small but fairly pivotal part in the original script. I won't give up the details on how Scotty precisely fit into the story, but he was basically our introduction to villain Calvin Candie, played by Leonardo DiCaprio.

The role of Scotty went to Sacha Baron Cohen, but Cohen had to drop out of the movie, and there was some doubt as to whether the Scotty character would even end up in the final cut.

Deadline suggests the character is still part of the film, but explicitly says Hill isn't cast in that role. So we'll wonder for a while about just where the actor will show up. Given his more recent roles, which put him in dramatic and action-oriented stories, he could play just about anyone. And given Tarantino's tendency to make interesting pairings between actor and role, I'd almost count on being surprised by Hill when the final film rolls out.
Naw, I'm just kidding. Who the fuck cares, dude is capable enough.