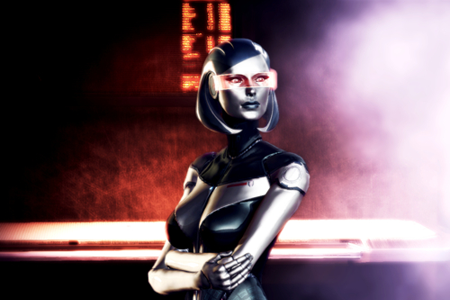 Just today I was wondering what the fuck was going on with the Mass Effect 3: Unfucked Ending, and no sooner do I dwell on it some info turns up. My mind has fucking powers! Imagining…Scarlett Johansson. She's here guys. Be to the right back.
On top of providing "further clarity" to  Mass Effect 3's ending, some more details regardingthe upcoming "Extended Cut" DLC  have come out. "Extended Cut" will include cameos from both Admiral Hackett, who is played by Lance Henricksen, and EDI, voiced by Tricia Helfer.

"I just did another session with them. They were saying there's a little bit of a problem with the abruptness of the ending," Hendriksen told  G4  during a press junket for a new animated series called  Tron: Uprising  that he's involved in. "So we did a whole series of things to add to the end of the game, to live up to the quality they've been doing." Helfer, also part of the show, confirmed EDI would make an appearance.
Just put your mind to it! Oh yeah, uh, Mass Effect 3  stuff too.