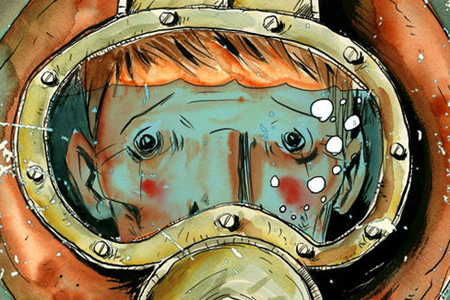 Jeff Lemire may be putting Sweet Tooth  and its band of hybrids down in December, but he ain't going to be going quietly into the night. As if on command to remind my melancholic ass that the Tooth  ending wouldn't be the end of premiere, this preview of Lemire's upcoming graphic novel has dropped. Damn, damn tasty.
Jeff Lemire, the creator of the  Essex County  trilogy and  Sweet Tooth  and the writer of  Animal Man,  has released new art from his upcoming Top Shelf graphic novel  The Underwater Welder.  Announced in early 2010, the 224-page book is set to arrive in August. Here's the official description:

As an underwater welder on an oil rig off the coast of Nova Scotia, Jack Joseph is used to the immense pressures of deep-sea work. Nothing, however, could prepare him for the pressures of impending fatherhood. As Jack dives deeper and deeper, he seems to pull further and further away from his young wife and their unborn son. Then one night, deep in the icy solitude of the ocean floor, something unexplainable happens. Jack has a mysterious and supernatural encounter that will change the course of his life forever.

Equal parts blue-collar character study and mind-bending mystery,  The Underwater Welder  is a graphic novel about fathers and sons, birth and death, memory and reality, and the treasures we all bury deep below the surface.