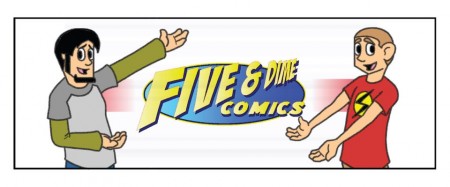 For someone who is outside the realm of comics, a comic con is certainly a lot to take in.   There are cosplayers of all ages, ranging from Green Lanterns to Mr. T.   Boston comic con is certainly an experience that will take a lot of drugs and booze to forget.
I asked my friends at Five and Dime comics if I could tag along and see the whole event from their eyes.   They graciously added me to their impressive entourage filled with artists, writers, cosplayers, and a man named Steve (I should state that I've been friends with most of these people for over a decade so acceptance was assured).    This past Boston Comic Con was the first for Five and Dime that was attended by both writer and artist (as the writer lives in Kansas and the artist lives in Massachusetts).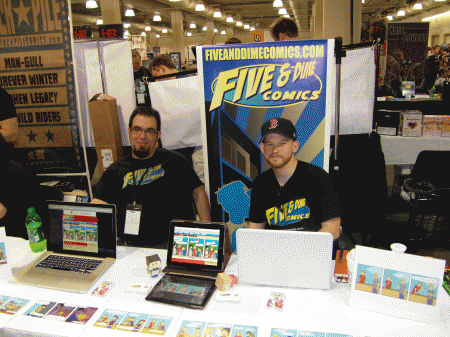 Five and Dime is a web comic that is drawn by Rob Jeannotte (above on the left) and written by Greg "Inky" Charland (Pictured right).   The story follows the two main characters, Zack and Flash, as they run a comic book store that exists where reality and fantasy converge.   The shop has mundane customers looking for comics to Loki looking to even the score for being tricked.   If you're interested in a fun family friendly read, check them out.
After the convention was over I proceeded to send a few questions towards the dynamic duo, here are the results.
What were your expectations before attending Boston Comic Con?
Greg: I was hoping to get as many business cards in to the hands of passerby as we could.  I wanted to get an understanding of how other artists managed their respective booths.  I was also hoping to see Fat-Guy Sailor Moon.
Rob: My expectations for the Con were to meet up with some friends that I hadn't seen in a while, get more people to take a look at us, and just have a blast with my friends and other comic fans.
Did you feel that they were met?
Greg: We did a good job of meeting most of my expectations, except the Fat-Guy Sailor Moon.
Rob: Better than I expected.  I saw everyone I hoped to see with a couple exceptions. We got some great feedback from fans and we had a lot more recognition than I could have hoped for.
What was your favorite moment from the Comic Con weekend?
Greg: We had a shy young man who cautiously approached our table.  We told him he could take any print he wanted. He carefully proceeded down the line reading each print.  After he finished he came back to our "Prince Albert In A Can" strip and pointed to it and muttered "Cthulhu, I'll take Cthulhu." He grabbed it and ran off.
Rob: The weekend was amazing, and it's hard to pinpoint one moment.  However on Sunday while Greg and I were manning the table, Ashley Wood stopped by the table and just shot the breeze with us for a while.   It was completely unexpected but awesome.  That and having an opportunity to donate some art work to The Inkwell Awards for their donation drive.
What was your least favorite moment?
Greg: Every time I had to use the restroom.
Rob: It sound hokey, but honestly, that it ended.    I always get so pumped during these shows.   Also it's always a bummer leaving a group of people that share the same passions as you, to go back to "The real world".
What have you learned going forward about attending Comic Con in the future?
Greg: We need to have a few things to sell. We also need Rob to bring an art portfolio.
Rob: That paper cube cut-out versions of our characters are more popular than we are (seriously, a few guys took pictures of them, but wanted nothing to do with our comic).  Also that we have a very solid and dedicated fan base that I cannot thank enough for the encouragement.
Who were you guys glad you saw at Comic Con? (Shameless plugs for other artists alert!)
Greg: Scottie Young, Renae De Liz, Ray Dillon, and Mark Mckenna
Rob: I was incredibly glad to see Mark McKenna again. As I said we met Ashley Wood, also my buddy Jason Casey (who got us to our first comic con last year).   The people over at P.E.T.Z. (People for the Ethical Treatment of Zombies).  Jon of Boots and Pup, he was right behind us apparently but I didn't get a chance to see him however I'm glad he was there.
What question would you ask yourself if you were me, and then what answer would you give if you were then you answering the question asked by you-me?
Greg: Question: What was the best thing you overheard at the convention?
"You know, I think comics objectify women."
Rob: The question would be "Rob, are you REALLY the one who put the "Bop" in the "Bop-sho-bop-sho-bop?" And my answer would be "Yes, as a matter of fact! How did you know? And there is no reason to shake my hand, your thanks is enough.  I just hope you and your girl live a happy and long life together.
Thanks again to the guys at 5 & Dime for taking me in and showing me that comicons can indeed be fun for someone that has only the smallest bit of comic knowledge.