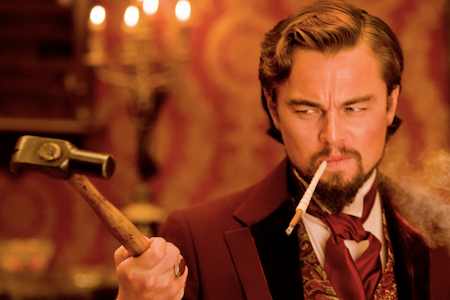 Hell yeah. We have our first official look at the chaps from Django Unchained, and my tits are titillated. I still can't believe that on top of all the nerdery dropping this year we are also getting new Tarantino.
Doesn't  Leonardo DiCaprio  look great as a villain? That's Leo as Calvin Candie, the slaver antagonist of  Quentin Tarantino's new film  Django Unchained, in which the character is opposed by a German bounty hunter and a freed slave, played byChristoph Waltz  and  Jamie Foxx. That image is one of two fantastic official first looks at the characters; the other, featuring the heroes, is below.

Foxx tells  EW  that the movie will certainly be controversial, and describes Django as Shaft's "Richard Roundtree meets Clint Eastwood."

He also explains some of the plot, which involves Dr. King Schultz (Waltz) freeing Django from a slave line so that Django can help the dentist-turned-bounty hunter track down the slaving Brittle Brothers. But Django also wants to find his wife (Kerry Washington), and that brings him into the orbit of Calvin Candie (DiCaprio).