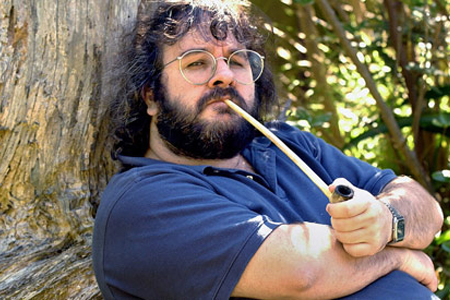 Peter Jackson has previewed ten-minutes of The Hobbit  for a gaggle of lucky-enoughs, and the results haven't been very positive. In fact, most found the footage underwhelming. What is really concerning are the reactions by the viewers to the film's usage of 48fps, which has some pulling out pubes and screaming to the Heavens.
On the more negative end of the spectrum was  Devin Faraci  who  took to Twitter  to say "Oh no. Not a fan of 48fps. Oh no no no,"  adding  that "THE HOBBIT, frankly, did not look cinematic." Over on his  Badass Digest  blog he elaborated his thoughts, and essentially, the crisper looking image had the odd effect of making everything seem almost  too  realistic. "The 48fps footage I saw looked terrible. It looked completely non-cinematic. The sets looked like sets," he explained.

But response from the rest of the crowd, even if negative, was toned with a bit of caution as well.  Josh Dickey  at Variety had a  myriadofthoughts  tweeting, "Great Scott, THE HOBBIT in 48 frames-per-second is a thing to behold. Totally different experience. Not all will like the change.  48 fps has an immediacy that is almost jarring. And lighting it just right will be a learning process, as 3D was and still is.  48 fps also, unfortunately, looks a bit like television. But it does bring 3D to a different level."

Peter Sciretta  at /Film also had  mixedfeelings  saying, "Saw ten minutes of Hobbit in 48fps 3D. Very exciting, but I'm now very unsure about higher framerates.  48fps feature films will likely divide moviegoers — I expect to see stronger hate, more so than 3D."

Meanwhile, the usually very picky  Jeff Wells  was impressed, but also echoed some of Devin Faraci's concerns. "I felt astonished & amazed…the term is WOWED…and yet a bit uncertain about the 48 fps 3D footage from Peter Jackson's 'The Hobbit.' In a word, 48 fps 3D looks like high-def video.  It doesn't look 'cinematic', lacking that filtered or gauzy look we're all accustomed to,"  hetweeted. But it was  Alex Billington  at First Showing who proabably  hit the nail on the head  of what unfolded this afternoon: "There are going to be endless debates about 48FPS and how good/bad it looks. I just think we need to get used to change after 80yr of 24FPS."
Devin Faraci over-the-top negative? Surely you jest! Why…this must be…any other day! Jokes aside, I hadn't really given much of a thought as to what the doubling of frames could mean. If it's as uncinematic as almost everyone says, this is a bit of a bummer. It isn't as though people were clamoring for high framerates, right?