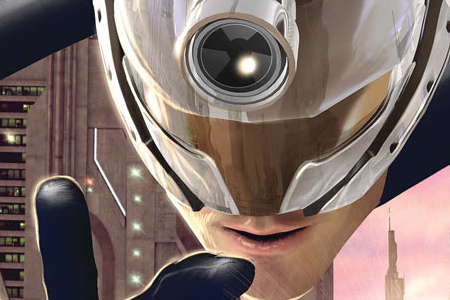 Yeah, I've been toying with the name of this column for weeks now. I'll just accept it. Ain't no one home when it comes to this little installation on Spaceship Omega. Buy These Fucking Comics!, the column where we all share the funny books we're buying this week. In theory. Most of the time it's just me pissing into the wind, waiting for a friend. S'all good though. I like pee play, and like many things in life while it isn't ideal to do it alone, it sure as shit beats not doing it at all.
Actually want to play the game? Hit up ComicList.
—-
Ultimate Comics Ultimates #9
Reed Richards continues to threaten the world, engineering genius babies and Future Cities and other menacing shit. After the dude convinced the Hulk in the previous issue that he was getting played out like a chump, it looks like Ultimates are totally tits-up heading down the wrong way of the creek. Also, double-points for Tony Stark and Thor totally hanging out in overalls in the aforementioned last installment. Just a couple of dudes. Hanging nipples out, pounding some beers. Thinking about hammers, repulsor rays, and other awesome monuments to the phallus.
—-
Spaceman #6
If it weren't for Prophet, then this joint would be my favorite science-fiction mind-fuck Dystopia going. As the mini-series progresses, I'm becoming increasing intrigued by just what the fuck happened on Mars with Orson and the pack of cavemen motherfuckers that were up there with him. Terraforming? Golden mountains? Almost as engaging as the hyperbolic tits-and-violence social commentary that sizzles throughout the main portion of the narrative.
—-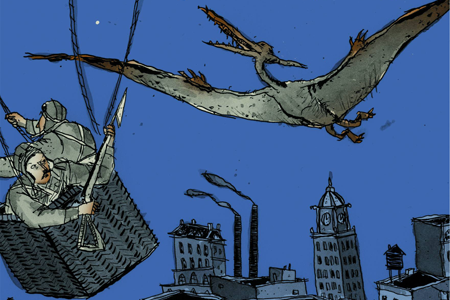 Pterodactyl Hunters In The Gilded City [One Shot]
This may be a bit of a reach for you folk, especially if you're like me and you haven't heard of this title prior to the previews for the week. Written and draw by Brendan Leach  this one-shot is a bit sounds fucking wonderful. In the actual meaning of the word. Full of wonder. The tale tales place in "a version of 1904 New York where generations of working-class hot-air-balloonists take to the skies each night to defend their city from a dwindling population of pterodactyls", and if that doesn't sell you I don't know what will. Perhaps the copious amounts of praise and winning of an award.
In a week that has quite literally  a dumb comic dedicated to the fights  from Avengers vs. X-Men, do the world a solid. Buy this. It's only $10. Or if you want to go digital, $4.
—-
What are you buying this week? Hit me.