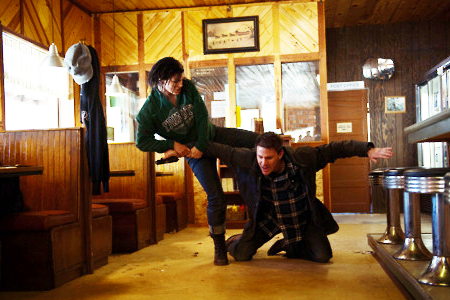 Despite my (actual) love for the Fast and the Furious People Racing Shit  series, I'm not going to pretend the movies have good acting. Yet, I never thought they would cast someone for one of these flicks and I'd go "Man, the franchise's acting just got worse." First time for everything!
Carano is in talks to join Fast Six (or Fast & Furious 6, or Fast 6, or whatever the final title will be), where she'll play alongside Paul Walker, Dwayne Johnson, and Vin Diesel. After beating the crap out of guys like Channing Tatum and Michael Fassbender in Haywire, that should't be much of a stretch.

THR says that Carano's full role hasn't been revealed, but that she'll be a member of The Rock's government team.
I saw Haywire. It got good reviews, and Gina Carano looks sexy punching stuff. It was bad, yo. Bad. Still, she'll be buoyed by the acting chops of Vin Diesel, The Rock, and Christ we can't forget Paul Walker.