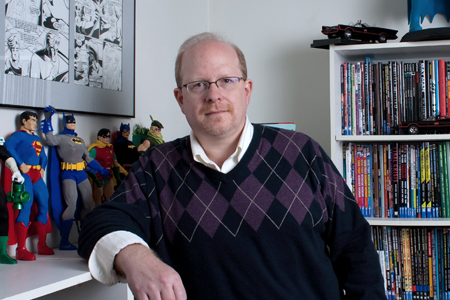 At C2E2, Mark Waid has laid out the deets on his upcoming digital comics venture. It's called Thrillbent, and its dropping the cloak covering its naughties this May 1.
Award-winning comics and graphic-novel writer Mark Waid announced today at The Chicago Comic & Entertainment Expo (C2E2) that he will be launching Thrillbent, his new digital comics venture, on May 1, 2012.

Waid, along with LEVERAGE TV show helmer John Rogers, has created the Thrillbent website (www.thrillbent.com) — "Comics For The Rest Of Us" — as a one-stop showcase for all-new creator-owned digital comics by a number of established and up-and-coming talents, all eager to work in a wide and eclectic variety of genres. "I've been championing the digital frontier for some time," says Waid, whose most recent work has included spearheading Marvel Entertainment's INFINITE COMICS digital-only offerings. "Most 'digital' comics offered today are just repurposed scans of pages created for print. Comics designed specifically for tablets, smartphones and computer screens, however, can do things with pacing, with color and art, with tools of graphic storytelling that print can't achieve, all while retaining their integrity as comics and not 'wannabe animation.' When done right, digital comics are a revolutionary new storytelling medium."

Thrillbent's first regular feature will be a new, free weekly series produced by Waid and artist Peter Krause, the team behind the Eisner- and Harvey Award-nominated IRREDEEMABLE, with additional weekly series by Waid, Rogers and others soon to follow.
I'm really hoping this succeeds. Comics everywhere! Comics every medium.