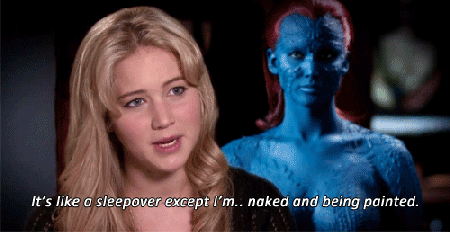 This is just good business right here. The sequel to X-Men: First Class  is going to shoot around Jennifer Lawrence's schedule for Catching Fire.  
The last real news we had on the film that will follow X-Men: First Class was that director Matthew Vaughn, who co-authored the rewrite of First Class (with Jane Goldman) and then made the film on a rather tight schedule, had signed to direct the sequel.

Now it looks like that next X-Men film will shoot in January 2013. The reason is one that shouldn't come as much of a surprise to anyone who has looked at the top-grossing movie for the last couple weeks. Jennifer Lawrence played Mystique in First Class, but is also now the lead of the blockbuster film The Hunger Games, with a sequel close on the horizon. That means that X-Men studio Fox and Hunger Games studio Lionsgate both have films they want to get into production, and both involve Lawrence. (And you can bet that Fox wants to emphasize Lawrence in any way possible now, after the runaway success of The Hunger Games.)

The solution will likely be this: Lawrence will shoot Catching Fire, the Hunger Games sequel, later this year, and then shoot the next X-Men film in January.

THR says that sources report "Fox is informing talent agencies Thursday that the studio plans to begin shooting its in-development sequel to X-Men: First Class in January."
I know that Lawrence isn't a staple of the X-Men: First Class storyline in comparison to other characters, but ensuring that she's in the flick is a solid choice. Since she was in First Class she's blown the fuck up, and with her appearing in the sequel she'll drag her legions of devotees into the theater.