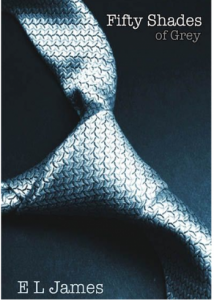 Obviously the fact that some shitty Twilight fanfic was published and became a surprise bestseller means I should polish up all the fanfiction I wrote in high school and make bank.
I'm sure you can guess my feelings on the Twilight franchise; they're right up there with my feelings on the MPAA. But they don't come close  to my feelings on this piece of shit story ("50 Shades of Grey") with its atrocious writing. No, seriously, that is an actual excerpt. And just when I thought things couldn't get any worse, Universal and Focus Features bought the film rights.
Universal Pictures and Focus Features announced this morning they have acquired film rights to the novel authored by TV executive and mother of two, E.L. James, with plans to create a trilogy out of the novel and its two sequels. "At its core, this is a romance of the most emotionally resonant, but delicate, order – and we look forward to working with our colleagues at Universal to transform E.L. James' vision into a great film," says Focus Features chief James Schamus.

The book is about wealthy 27-year-old, Christian Grey, who engages in a dominant/submissive love affair with 21-year-old college student Anastasia Steele.

In her  B-plus review of the novel,  which began life as  Twilight  fan fiction, EW's Lisa Schwarzbaum placed the book in the tradition of erotic literature ranging from  The Story of O, Toni Bentley's  The Surrender,  and Catherine Millet's  The Sexual Life of Catherine M.
Did you hear that? It was the sound of my thalamus spontaneously combusting and my head caving in. I wonder if Schamus actually said any of that with a straight face. Meanwhile, I'll continue writing screenplays that will never be optioned unless I make them about a soulful douchebag who tripped into a vat of body glitter and the fuckwit whose existence makes me want to kill myself.
Shine on, you crazy Twimonds.