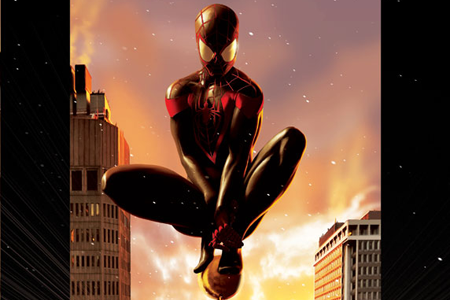 The name is the game! Welcome to Comics We're Buying This Week, the communal comic book welcome wagon where we all share the hotness we're snagging from the funny book farm on a given Wednesday. Per usual: my taste is shite, and I'm always looking to broaden my horizons. Don't know what's dropping? Behold ComicList.
 —-
Ultimate Comics Spider-Man #7
Listen, you worship whatever sort of false idols you want. *My* Spider-Man is named Miles Morales and he is totally fucking Ultimate. Chris Samnee continues to compliment Brian Marvel Bendis with sexy pencils, and I'm nodding my head in agreement. Listen, I know the comic is slow. I know it doesn't have the wizbang you're looking for. Not yet, at least. What it does have is the most rewarding origin story I've come across in a while. I'm invested. I care about that the dude. Things seem to be picking up for Miles as the Scorpion is looking to roll some heads and its up to our way-too-young-to-be-risking his life hero to laid down some wallop.
—-
Dark Horse Presents #9
This forthcoming edition of Dark Horse Presents  is going to be enough on its own to properly stimulate my brother's fanboy g-spot. He is almost guaranteed to throw white emphatic rope all over the cover. Why? Why you ask! Why you demand to know! Two words: Paul Pope. The son of a bitch is making an appearance in this latest anthology, and it will be nothing short of euphoric to those who worship at the altar of the Pope. I mean shit, the dude puts out what? A couple of throwaway covers a year to pay the bills while he never finished Battling Boy? (I'm trolling, okay? I'm trolling.)
There's also some Woodian Goodies in the issue, with more content from Brian Wood's upcoming regular series The Massive.
Also goodies from  Mike Mignola, Neal Adams, and more. DHP  doesn't fuck around these days.
—-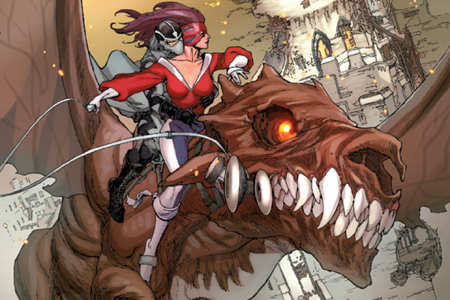 Uncanny X-Force #22
The volcanic hotness right here. I love Remender's riffing on Uncanny X-Force. Dig the shit out of it. The comic excels so much because it seems the duder has been given free rein to do whatever he wants. They've gone from one synthetic-meta-outerworld to the next in their ultra-violent journeys and not a one of them has failed to entertain me.  Hangin' out in Outerworld as Deadpool is decapitated. Again. As Betsy totally saves Fantomex. Let me tel you, I'm totally shipping those two. Hard. OTP.
(Also check out Remender in this week's Secret Avengers.)
—-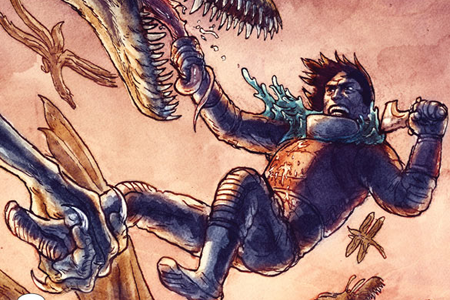 Prophet #22 [Caff Pick of the Week]
You better have read the first Graham/Roy issue of Prophet, boy. Or gal. Bal. Goy. Insert some nebulous third-forth-whatever gender configuration. Good fuck was it everything I was hoping for. A quiet brooding science-fiction western set in a world with sexy gadgets and lethal threats! Graham's imagination runs fucking wild within the pages of the relaunched Prophet, and if whether you're a sci-fi dork like me or just a proponent for free-wheeling creativity, buy this fucking comic. Buy two copies.
—-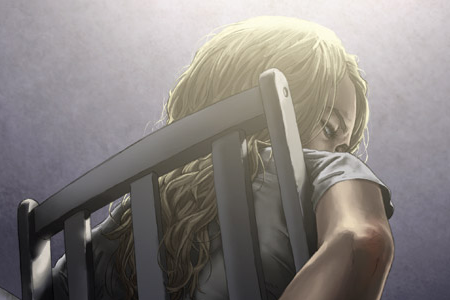 Around The Horn
What else is going down this week? We have Morning Glories #16. At some point, at some issue I can't recall, I jumped off this title's bandwagon. Maybe I'll snag it in trades. Yet another issue of Wolverine And His X-Kiddos  is dropping this week. Talk about over-saturation. The title is worth buying maybe every six weeks when you need something to dig while you're cranking out a brown horror in the bathroom. There's also new issues of Chew, Bulletproof Coffin, and god condemn me if I forgot it, the premiere issue of Nazi Zombies.
—-
What are you good people buying this week? Hit me. Share the love.