Neil Gaiman Providing Voice For Animated 'Bluntman and Chronic'. This Is Exceptional.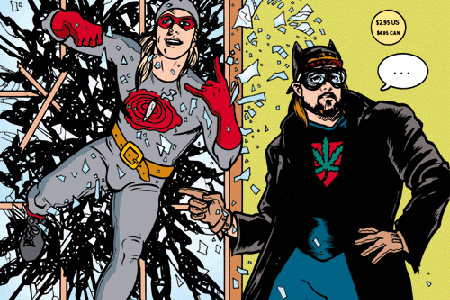 Neil Gaiman is lending his voice to an animated Bluntman and Chronic project that I had absolutely no idea existed. Jay Mewes accosted the writer and overall Dork Legend, and the dude? He said yes.
So Kevin Smith is planning on doing a Bluntman and Chronic cartoon and both Smith and Jason Mewes felt they needed an "Alfred", or an authoritative narrative voice of reason. So Mewes reaches out to Neil Gaiman on Twitter and Gaiman is all like "yeah sure". Just like that.

Mr. @JayMewes is doing a BLUNTMAN & CHRONIC cartoon and we need an Alfred voice, all British and whatnot. It's gotta be you — @NeilHimself!

@ThatKevinSmith @JayMewes sure!

So there you go. There's going to be a Bluntman and Chronic cartoon of some length at some time and Neil Gaiman's going to be in it. The Aristocrats.
This is  inexpressibly awesome.