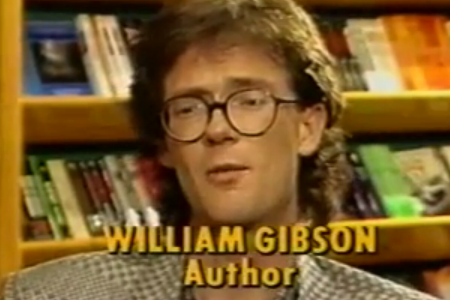 True fucking Gibsonite porn right here. A 1986 informercial for a Neuromancer adaptation that never came to be. It was intended to drudge up funding for the project, and features a gaggle of stars including a glorious 1986 version of the author himself.
io9:
And now, something completely different. Commenting gladiator LightningLouie has alerted us to this downright amazing promotional video from the late Eighties that was filmed to sell potential investors on a Neuromancer movie. This is the godhead of weird ephemera.

In 1986, Cabana Boy Entertainment – "a Hollywood production team consisting of a plastic surgeon's wife and yep, two actual cabana boys," explains Louie – optioned the book for $100,000.

To lure in investors, Cabana Boys put together this incredible video promo featuring screenwriter Earl Mac Rauch (Buckaroo Banzai), creative consultant/late psychedelia guru TImothy Leary, and Gibson himself rapping about Neuromancer, the new cyberpunk craze that will give every odeon the vapors!