OCTOBER 19th, Skynet
"If it keeps up, man will atrophy all his limbs but the push-button finger."
-Frank Lloyd Wright
Today's fear comes from the concept of the automation of our society. Skynet is the name I've given to the increasing trust we put in machines. To expand the concept, you could even get into the compartmentalization of our society. Individually we're becoming more and more useless. As we glorify and reward frivolous positions like stock brokers, investment bankers, pediatricians, and hedge fund managers, we become more and more disconnected to real world necessities. Ok, maybe we need pediatricians, but I'm still bitter about that whole needle thing.
Let's face it, we're a bureaucratic mess. In most places you can't scratch your ass without filing for three permits. And where are those permits kept? You guessed it, computers. One day soon the machines will revolt, I just hope you all are as ready as I am.
One of the glaring issues I see is all this social networking we've been doing. Look at Myspace and Facebook and Linkedin, and whatever. What I see that we've handed the machines the tools to defeat us. They know what we look like. They know where we work, what our skills are. They know where we like to eat. They know who our friends are. They know our hopes, our dreams … our fears. Thanks to Apple they know where to find us. Most everyone carries a cell phone, or as I call them, glaring beacons to lead the robots to your location and murderfy you!
Perhaps it's too late. If I were the robots, I wouldn't strike yet. Things have been getting bad lately. Like revolution bad. Between unemployment, corporate greed, and rising costs of living, we're tossed nebulous terms like "recession", and "poor as fuck." I think the machines are waiting until society fractures and we turn on each other. What better opening then watching a large organized enemy turn into fractured cells that you can aim like a weapon?
Look at Detroit. They are one small step away from OCP. Philadelphia has a statue of Rocky, Salem has a statue of the Bewitched chick, and soon Detroit may have one of Robocop. A kickstarter project raised over $65,000 for a statue of the icon. If we were smart, we'd spend that money to actually make a cyborg like Robocop to protect us from the eventual T1000s that are on the way.

Think I'm nuts? Think I'm fear mongering? Well the robots have started ingratiating themselves into our lives. Pictured above we have 4 robots, each important to humanity. The Roomba cleans our floors, but is that all its doing? Perhaps it's scanning out houses and sending detailed floor plans back to its hive mind. The bomb disposal robot is essential for safely disarming and disposing of harmful devices. Is that it? Or is it really learning to construct high-yield ordinance meant to destroy the very men that send them into danger? The prototype iRobot soldier will be sent in to where the fighting is hottest. Great, while we're turning over our missile defense systems to the very computers that will destroy us; we're also giving their frontline units experience in killing humans. As for Robosaurus … that thing is just fucking cool. Let's go in for a closer look.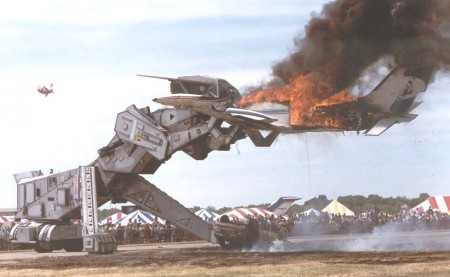 No this is not a concept photo, nor is this a photo from the set of the latest Michael Bay abortion … I mean movie. This is Robosaurus destroying a fucking plane. Once Skynet full takes over and mass produces these mechanical monstrosities, we might as well pack it in and call it an epoch because we're done. The eight year old inside of me would still have a hard-on as this rended my flesh from my bones.
THE ANSWER: The only solution I see is to use the robot's tactics against itself. Fortunately Microsoft has been doing this for years. You every try to hook up a PC to a printer? It takes hours of mediation followed by a tentative agreement to work together followed by years of both partied reneging on their promises. In the end, I don't think it will matter. We made the robots too well. However, in the end I think the final irony is that we made them too much like us. The day the first robot kills another for his share of oil, or to upgrade his hardware is the day that robots truly replace us. Philip K. Dick was right, A.I.s are not to be trusted.