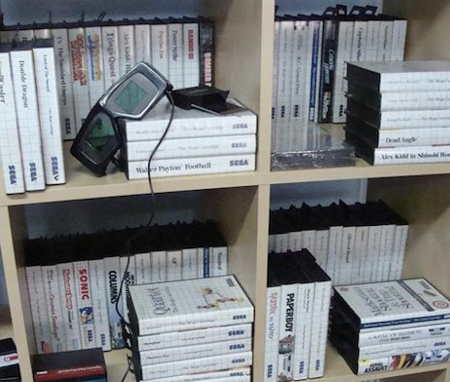 I never played the Sega Master System. It's one of the few consoles my childhood spoiled ass never touched. Now is my chance! I can taste it. For $5,000, I can own the whole fucking schbang.
I'm a huge Sega fan, and it all started with the Sega Master System, so this eBay auction caught my attention.  This is the  complete  Sega Master System collection, and as of this morning the auction stands at $4,995, or Best Offer.

For 5 grand you'll get the entire US North American library as well as the console. That's 114 titles, all in excellent condition, with manuals and cases. After the jump you'll find the full list of games offered.

In this day of official re-releases and emulation, it seems crazy to spend that much money on some old cartridges, but perhaps there's a fellow Sega kid that makes more than this poor blogger somewhere out there. I hope he wins it and plays the sh*t out of  Castle of Illusion, Hang-On, Michael Jackson's Moonwalker…

Aerial Assualt

Action Fighter

After Burner

Alex Kidd : High Tech World

Alex Kidd in Shinobi World

Alex Kidd : The Lost Stars

Alex Kidd : In Miracle World

Alien Symdrome

Altered Beast

Alf

Astro Warrior

Aztec Adventure

Blade Eagle 3-D

Black Belt

Bomber Raid

California  Games

Captain Silver

Castle  of  Illusion

Choplifter

Columns

Cloud Master

Cyborg Hunter

Dead Angle

Dick Tracy

Double Dragon

Enduro Racer

ESWAT

F16 Fighting Falcon

Fantasy Zone

Fantasy Zone II

Fantasy Zone : The Maze

Galaxy Force

Gangster  Town

Ghostbusters

Ghost House

Ghouls N Ghosts

Golden Axe

Golden Axe Warrior

Golvellius  Valley  of Doom

Global Defense

Great Ice Hockey

Great Baseball

Great Football

Great Volleyball

Great Golf

Great Baseball

Great Soccer

Hang-On Safari Hunt

Hang-on Astro Warrior

Kenseiden

James Buster Douglas Boxing

Joe Montana Football

Lord of the Sword

Marksman Shooting Trap Shooting

Maze Hunter 3-D

Michael Jackson's Moonwalker

Miracle Warriors Seal of the Dark Lord

Missile Defense 3-D

Monopoly

Montezuma's Revenge

My Hero

Ninja

Outrun

Outrun 3-D (rarest in my opinion)

King's Quest Quest for the Crown

Kung Fu Kid

Paperboy

Parlour Games

Penguin  Land

Phantasy Star

Poseidon Wars 3-D (rare title still sealed)

Power Strike (rare mail-in)

Pro Wrestling

Psycho Fox

Quartet

Rambo First Blood Part II

Rambo III

Rampage

Rastan

Rocky

Rescue  Mission

RC Grand Prix

Reggie Jackson Baseball

RTYPE

Shanghai

Shinobi

Shooting Gallery

Sonic the Hedgehog

Space Harrier

Space Harrier 3-D

Spellcaster

Spider-Man

Spy vs Spy

Strider

Super Tennis

Super  Monaco  GP

Thunderblade

Time Soldiers

Transbot

Vigilante

Walter Payton Football

Wanted

Where in the World is Carmen Sandiego?

World Grand Prix

Wonder Boy

Wonder Boy in  Monster  Land

Y's The Vanished Omens

Zaxxon 3-D

Zillion

Zillion II

These titles are game only no case or manual.

Casino Games

Slap Shot

Sports Pad Football

Wonder Boy III Dragon's Trap
Omega Level collection can go!