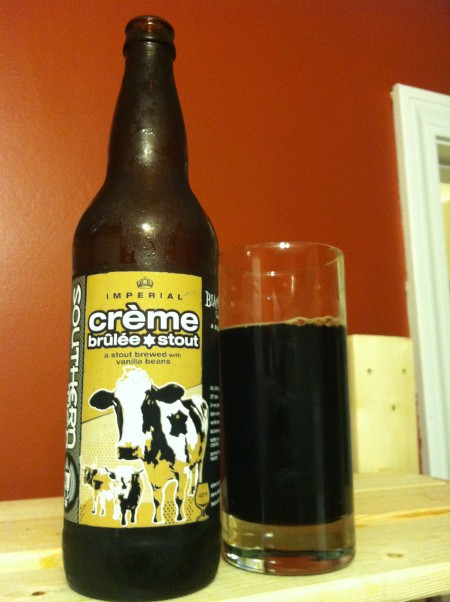 Let us rejoice, for Friday night is upon us! Those of us lucky enough to remain unfettered – without the shackles of offspring or weekend jobs or second drafts of suicide notes to edit – we get to spend this glorious evening any way we see fit.
So how am I spending the evening? Well, I'm attempting to both appease my insatiable appetite for dessert and honor my weekly intoxication-ritual in one fell swoop. How's that, you ask? Well, I'm slurping on a drank that models itself on a delicious treat.
Tonight, I'm tossing back crème brûlée stout from the fine folks at the Southern Tier Brewing Company.
I've run through quite a few dark lagers and stouts and porters in my time, but I've never put my palate in front of a brew inspired by a dish whose recipe calls for a blowtorch. So goddamn, I thought, I should know what I'm getting myself into! Ain't it always better to know which perverts and God-suckers are lurking in that dark alley you're about run down? I think so! Time to get educated!
Southern Tier describes crème brûlée stout in the following terms:
We are not the harbingers of truth as some may suggest but it may indeed be argued that our brewing philosophy is tantamount to a dessert with a bellicose past. How, you may ask, would a brewery determine a likeness to hard-coated custard? Our response is simple; it's all in the power of history, and of course, the extra finesse needed to top off a contentious treat with definition.
Holy fuck. It's almost as though the brewers know that my appreciation for beer is only superseded by my love of science fiction. By tossing in some half-baked philosophy about space-time, Southern Tier ensured that I'd be frothing at the mouth for their product.
Even before a single drop touched my tongue, crème brûlée stout impressed the shit out of me. I was first mesmerized while pouring the liquid into a standard drinking glass, as I couldn't help but contemplate the endless abyss that is the stout's primary hue. However, I then took a hearty whiff and was nearly knocked off my seat. This milk stout is one of the sweetest, most delectable beers I've ever smelt. Despite its elevated ABV (9.6%), crème brûlée stout smells less like an alcoholic concoction and more like a baker's workshop. Vanilla overwhelmed me, and it took everything in my power to stop myself from smiling like a goonfuck.
Goddamn.
So what does the stout taste like? In short – pure awesomeness.
In more detail, I'd say that crème brûlée stout is dark and sweet and powerful beyond comprehension. The first note that hit me was a coffee-bitter, but this quickly subsided. In its place, a haughty vanilla and a shy caramel made their way onto the scene. They then proceeded to high-five one another before taking turns elbow-dropping my tongue. At other times, I'd swear that the flavor dominating my mouth was comparable to a dark chocolate, but it never persisted. Additionally,   an alcoholic potency appeared occasionally, but these appearances were always brief.
I can't sing enough praises about crème brûlée stout. So you know what? I'm not going to try. Instead, I'm just going to kick back with this stout and enjoy my Friday evening.
I suggest you do the same.
Southern Tier's crème brûlée stout gets an A-!!!