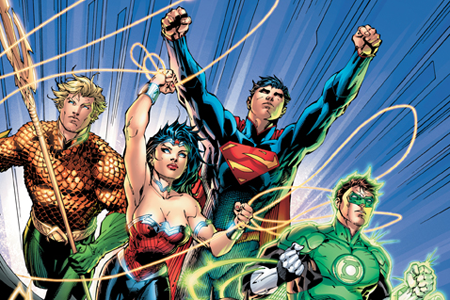 The DC relaunch is here. Hide your children. The DC relaunch is here. Jim Lee is ruining your favorite characters' costumes. The DC relaunch is here. They're going to treat the Universe's continuity like a buffet line. Picking and choosing what to keep. The DC relaunch is here. Their talking heads are spitting double-speak corporate nonsense, starring in embarrassing videos. The DC relaunch is here, they're taking away our handicapped heroine, dragging Wildstorm and Vertigo characters into their orbit. The DC relaunch is here, and they're going same-day digital and stabbing your favorite crusty old comic book store in the heart with a solid gold stake.
The DC relaunch is here.
And I think it's for the best.
Since its announcement, I've swayed on the high seas regarding the DC relaunch. I'm going to call it a relaunch. They call it a launch, you call it whatever you want. I think we all know what we're talking about. Right? Right. At first I exhibited the usual geek knee-jerk reaction. Rage! Indignation! I seethed, muttering under my breath about the comic book world being the same cyclical carnival ride of bullshit.
Build, to destroy.
Character development, to only be reset.
There's a validity to that feeling, and if you're ready to picket outside Comic-Con upset that Dan DiDio and Jim "The 1990′s Is Forever!" Lee and Geoff Johns and the whole crew is fisting your favorite titles, I don't blame you. It's just this. It isn't going to get you anywhere. It isn't going to be productive. You'll get a nice tan and meet some great people, but as I've said.
The DC relaunch is here.
It's time we hug the bomb, guys.  It's time we hug the bomb.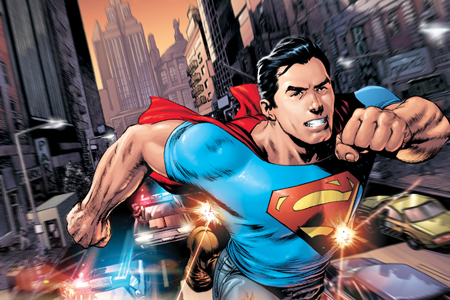 As I've said, I have wasted a senseless amount of time spitting into the wind about the news. I've had length, white-knuckled bitch sessions with my brother. I've taken into the comments section on the site and chatted with fellow fans of the splash-page, groin-shot, and world-threat. Sometimes I was for the change, sometimes I was against it, sometimes I was staunchly in the middle. Riding a fence, a picket banging sphincter. I'd grind a little bit, enjoying the position.
This week I realized something.
The DC relaunch is here.
First blush, the entire enterprise smacked of a desire to drive up sales. To cater to the casual fan. Rope them in with a cleaner continuity, with a fresh slate. In fact, it didn't smack of that. It was slathered in that fact, the minds behind the grind admitting as much. Who can blame them? Sales have been plummeting, the market shrinking. Clean up the park, throw away the dog shit and shoo the homeless people off the grounds. Right?
Second blush, the idea that Jim Lee was spearheading the project grated my grundel. I don't personally enjoy Lee. Though I do appreciate his style. I get it, he revolutionized the panel. I get it, he inspired countless clones. DC, so desperate to return to the glory days, was having the Golden Boy of that generation try and resurrect the vibes. One awful costume design at a time.
Still not feelin' it, still not diggin' it.
That's okay. That's fine.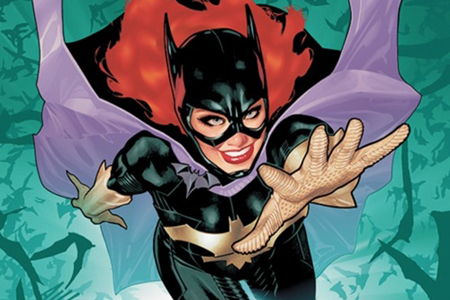 It was those two facts which got me goin' all Red Lantern, smashing cans of Diet Mountain Dew off my tits and yelling at my cats to take a run at me. Fuck them and their obvious money grab. Except that who could blame them. Fuck Jim Lee and his awful costumes. Except really how much is that going to affect the individual titles.
Right?
Third blush. The corporate blathering from Dan Didio and Bob Wayne and countless other DC Lip-Smacking Shit Heads has complicated the living shit out of the thing. It's a relaunch. It's not a relaunch. They're keeping continuities. Select ones. It's not a relaunch. It's not an event. It's a new beginning. A new beginning keeping old origins. Remember. Select ones.
All these vapid voices came together to form a fucking Voltron named Senseless Blowhard Wind Tunnel. An endless echoing of proclamations about being new!, and fresh!, and don't forget jumping on! Phrases turned into phrases turned into phrases, turned into phrases aimed at who exactly? Not me. No way. They have me. I've been reading comics since I rocketed blanks out of moi dick-tip. I'm a lifer.
These proclamations have been aimed at the audience that they may or may not ever be able to get. Johnny Casual. I think the average geek resents this. We're the good child, the one that behaves. We get no recognition, and for our devout purchasing and acquisitions, we're rewarded with a relaunch we didn't really ask for. DC tries to cater to the petulant child. That one that probably won't listen, the one who won't respond no matter how many Ritalin-spiked ice cream cones it's offered.
I haven't said a damn thing positive yet. I will. It doesn't matter though.
The DC relaunch is here.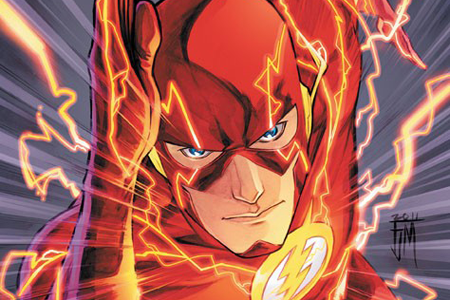 Let us try something. Let us peel away the shit-flecked scabs. Let us remove the festering bullshit posturing that is surrounding the event. Pull, and pull, and pull. Don't stop yanking even as the pustules pop, goop and muck hitting the back of your throat. Keep your poise. Keep pulling. Try and distance yourself from everything negative about the event and keep yanking. Say a prayer, think of your power animal.
And yank.
Such is the action I undertook recently, and I found salvation in a list. This list is the run-down of all 52 titles that DC is rolling out in September. New titles. Shiny. Sparkling. With a #1 adorning the front cover. Don't smidge them. Or your iPad screen. Don't you dare. Underneath all the bullshit, all the hype, all the undeniably lamentable aspects of the relaunch-relaunch-rehash-restart is a list.   If you could fit yourself into the rotting halls of my psyche, you would feel my excitement as I look at this list.
I had glanced at the list back when they announced it. A casual glance, stopping to note a few titles here and there. The Morrison written Action. The Snyder written Batman. It was a fleeting moment, glazed by my euphoria at Morrison once again taking on Mr. Kent. From that point, I began to feel optimistic about the relaunch. From that point, I began to not despair.
So when exactly did I come around?
One day as I was pressing flesh in my local comic shop for the first time in six months or so, the stalwart maintainer of OL's official Dork Haven handed me a list with all the titles that are dropping in September. I checked out the list. More carefully than I had before. I noticed something. Titles kept catching my eyes. Titles with creators I'd be interested in. Title, after title, after title.
The DC relaunch is here.
And there's creators on titles that weren't there before. Titles that didn't exist before. That may not exist in February of 2012. But in September they shall, and I'm interested in them. Titles by Grant Morrison, and Scott Snyder, and Paul Cornell, and Jeff Lemire, and Peter Milligan. Christ, they got  Nathan Edmondson to do Grifter. I'm now interested in fucking Grifter.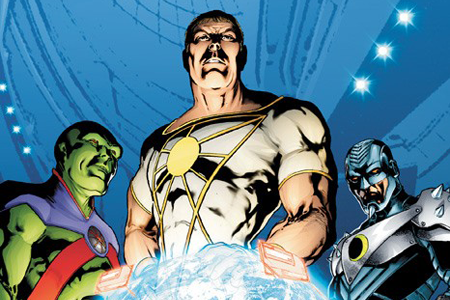 After all the bluster, after all the gale force winds of bullshit that is being blown out of the Gaping yet Quivering Anus of DC's Hype Machine, all that will exist is the comic books they're launching the next phase of their Universe with. Those funny books will be asked to back up all the bluster. Maybe it's never possible to match expectations.
I'm intrigued. I'm excited. I said it.
I'm excited for Action Comics, and Animal Man, and Stormwatch, and Demon Knights, and Batman, and Batwoman, and Green Lantern, and Red Lanterns, and Justice League Dark, and Wonder Woman, and Frankenstein, Agent of Shade, and more.
Maybe you are, maybe you aren't. If you don't like the creators, if you don't like the franchises, I can't change your mind. But if you're wrapped up in your own annoyance at the Hype Machine, at yet another BRAND NEW UNIVERSE, and all that shit, I don't blame you. But peel back that scab. See if there's any genuine excitement underneath it.
After all, it's about the comics at the end of the day. Not all the gabbing by Fat Heads and USA Today articles and posturing. It's about people you may enjoy writing titles you may be interested in giving a shot. I'm ready to keep an open mind. I'm off the fence. It's beginning to actually excite me a bit.
That said.  It doesn't matter whether we like it or not.
The DC relaunch is here.