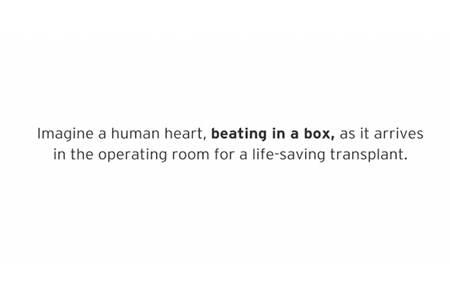 No more fucking ice and prayers and other medieval shit when transporting hearts. Not if ULCA's heart-lung transport team have their way. They've invented a box that keeps the heart pumping outside the body. This is the sort of wizardy science fiction bullshit that makes me so stoked to be alive in the time period I am. That and toilets.
Hit the jump for more details.
In other words, no more hearts on ice. In traditional methods of heart transplantation, the donor heart is injected with potassium chloride to stop its beating, and is then packed on ice before rushing it off to the transplant recipient. Under these conditions,the heart can be preserved for about 4-6 hours.

But UCLA Medical Center – along with Washington University Hospital in St. Louis and Columbia University Medical Center in New York – is collaborating with medical device company TransMedics in an  ongoing phase II clinical trial  to see if hearts can be transplanted in a more physiologically normal state.

The revised transplantation procedure forgoes the use of potassium chloride and ice in favor of TransMedics's Organ Care System (OCS), which preserves the donor heart at an internal body temperature and allows it to continue beating and flowing with warm, oxygenated blood.