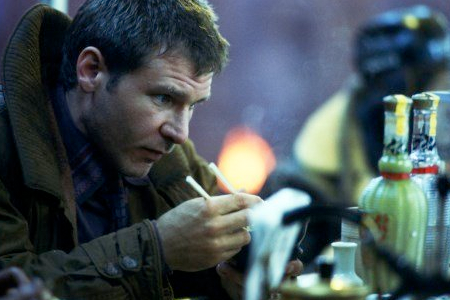 Some more Blade Runner news has come out regarding the confirmed Ridley Scott-helmed new movie. It's really real! This is all a bit surreal. Anyways. The producer of the film dropped some details to the LA Times.
Details on the project are very thin right now; besides the simple fact of Alcon Entertainment holding the rights to make the film, and Scott agreeing to direct, there are no specifics.

Andrew Kosove from Alcon is, however, already talking about the many steps that have to be taken before a film will ever be released. Between needing to make big decisions about the overall story, hiring a writer and shaping the script, we shouldn't expect the film to go into production before 2013. That means a 2014 release is the earliest we can expect the new Blade Runner. And what of original star Harrison Ford? Don't expect to see him in the film, says Kosove.

The LA Times talked to Kosove, who described a meeting he and Alcon partner Broderick Johnson had with Ridley Scott, during which "they hashed out how a new film would look, how it could avoid seeming too similar to the many movies that have since paid homage to the original, and how different the new film should be from the original itself."

[cont]

There is the question of possible participation from Harrison  Ford, which Kosove addresses:

In no way do I speak for Ridley Scott. But if you're asking me will this movie have anything to do with Harrison Ford, the answer is no. This is a total reinvention, and in my mind that means doing everything fresh, including casting.
Sounds good. The universe seems rich enough that you don't have to trot out old ass Harrison Ford to pull off the sequel.