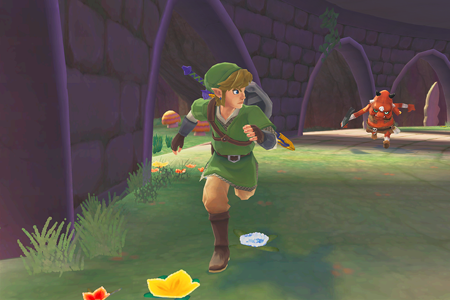 Even previous to this news. November to my wallet: fuck you. November to my school work: fuck you. November to my sanity: fuck you. The month in games was already too much, now it's threatening to break me. I never thought I'd actually lament a much-anticipated game's release date as being too close, but here it is.
Nintendo comes through in the nick of the time, announcing a November 20 release date for The Legend of Zelda: Skyward Sword.

The largest Zelda adventure yet and the first designed solely for the Wii (Link's Crossbow Training never counted as anything), Skyward Sword is likely Link's last big hurrah on the Wii before Nintendo slaps a U at the end of it and makes it more powerful and expensive.

"The Legend of Zelda: Skyward Sword is the biggest game in the series yet," said Scott Moffitt, Nintendo of America's executive vice president of Sales & Marketing. "We've just scratched the surface of this massive experience, and we look forward to sharing additional details with fans as we approach the Nov. 20 launch."
Oh November. This is going to probably end up in my Christmas stocking. At least it'll give me something to look forward to during Christmas break.