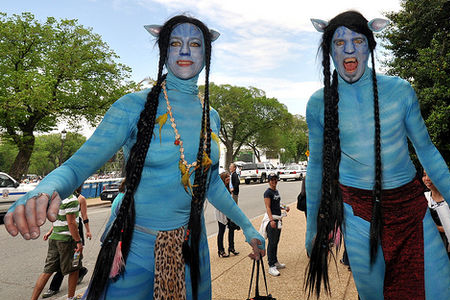 In more recent news, James Cameron doesn't know what a trilogy happens to be. He's currently writing the two sequels to his industry-ruining, emo-kid-inspiring Monolith. But these three flicks? Won't form a trilogy.
In a brand new interview Cameron said that he's still writing both films but that they're not exactly a trilogy, more of a "overall character arc." Read the exact quote and more updates on the films after the jump.

Fox News (Via Coming Soon) caught up with the Oscar-winning King of the World and asked him for the latest on the follow-ups to Avatar, the biggest box office hit in history.

We're shooting two films back-to-back, so I'm writing two scripts, not one, which will complete a [three]-film story arc — not really a trilogy, but just an overall character arc so I'm pretty excited about that. We're doing a lot of preliminary work right now on new software and new animation techniques and so on. We're creating a new facility in Manhattan Beach so everybody that's not already dead is coming back.
Let's see. You're shooting two films back to back. There's THREE scripts. One script. Two Script. Blue Script. Shit Script. Three Scripts! That would make it…a trilogy. If he had even said "The two films are one script split in two" I wouldn't have accepted but laughed less at the idea that it 'wasn't a trilogy.'
And it's an "overall character arc"? Yeah, that's what you get. In trilogies.