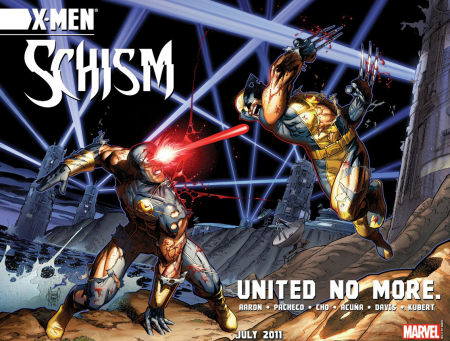 It was announced that 'Uncanny X-Men' was ending in with issue #544, and it as assumed that it would be relaunching. It is. Along with 'Uncanny X-Men #1′ in November, we're also getting 'Wolverine and the X-Men.' Oh boy. They're truly divided!
Hit the jump for more details.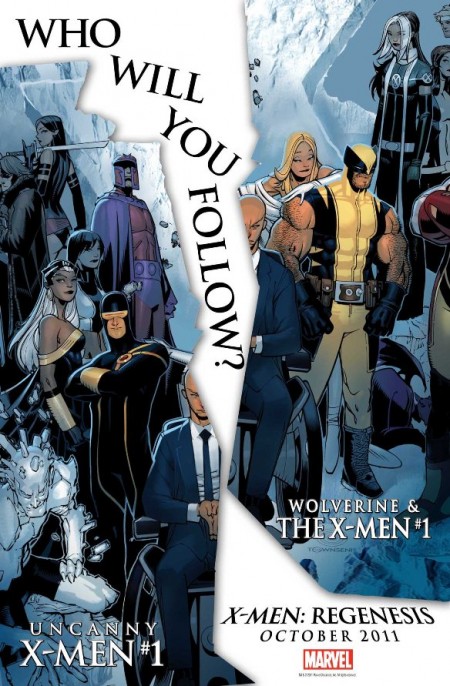 Press Release:
After Schism Comes X-MEN: REGENESIS!

New York-June 16, 2011-Marvel is pleased to announce X-Men: ReGenesis, a bold new direction redefining the X-Men franchise! X-Men: ReGenesis kicks off this fall in Uncanny X-Men #1 & Wolverine and the X-Men #1 and its ramifications will send shockwaves throughout every X-Book and the Marvel Universe! Prepare for the X-Men's new dawn as former allies head off in different directions, taking with them your favorite X-Men characters. Following the unforgettable outcome in X-Men: Schism, mutantkind will be asking one another "Who will you follow?" and their answers may surprise you! Never before have there been TWO teams calling themselves the X-Men and never has anyone had to choose a side. Guided by their different ideologies, each leader has their own mission for saving their species, but is only one of them right?

This October, Marvel Architect Jason Aaron and superstar artist Chris Bachalo launch Wolverine And The X-Men #1, assembling a team led by Logan himself with a line-up that nobody will see coming. Then, in November, history is made with Uncanny X-Men #1. From the superstar writer Kieron Gillen and artists Carlos Pacheco & Greg Land, new leadership rises with a renewed, refocused, and re-imagined group of Uncanny mutants.

"Years of X-Men history have been leading to this. X-Men: ReGenesis will affect our entire line leading up to a major conflict coming up in 2012!" said Marvel Editor in Chief, Axel Alonso. "This is just the start of what we have planned for the X-Men. Next summer all eyes will be on mutantkind — we guarantee it!"

Two new teams lead mutantkind into an all new era and will have everyone asking "Who will you follow?" — only in Wolverine & The X-Men #1 and Uncanny X-Men #1!

To find out more about X-Men: Regenesis, head over to Marvel.com!
X-Men: ReGenesis? Really? What is this, a fucking Squaresoft game? I need to double up on my pills, because I'm way bi-polar regarding the comic books industry lately. I bemoan the DC Reboot. I get excited over some of the creative teams announced. I think Joey Mads returning to Marvel is lame. I subsequently think he may rock on the new Spidey comic. I think that ending Uncanny X-Men just to relaunch it with a #1 is stupid. I don't care about the X-titles for the longest time. And…and…and…I'm sort of interested in Jason Aaron's 'Wolverine and the X-Men'? What the fuck is going on?
Truth be told, I like Aaron, and his work on X-Men. It doesn't hurt that his description sounds ludicrous.
Speaking to Marvel.com, Aaron said that the book will feature "big crazy plots, intense character drama, love, sex, anti-mutant hysteria, man-eating aliens, all-new characters, old favorite characters, bizarre space tech, strange transformations, property damage, telepathic shenanigans, Wolverine drinking whiskey, mutants playing baseball. Except perhaps for that last part."
Thoughts? I don't know what to think anymore. This comic world is madness these days! The landscape is swirling around me. Hold me. Help.