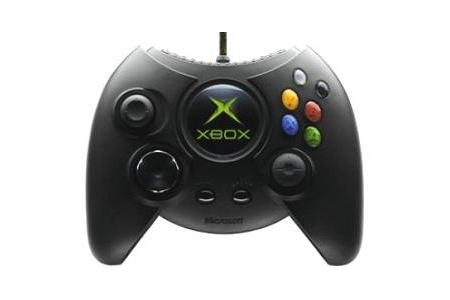 The original Xbox and its controller were ungodly behemoths. Spat forth from a scabbed vagina of ill-fated design choices. Thankfully Microsoft fixed the controller problem mid-cycle and released one that you know, could be wielded by human beings. Time has passed though, and now they're hilarious throwbacks. A shitty diaper of controller we can all laugh at.
Microsoft knows this, which is why they're bringing them back for Halo Fest.
Halo studio 343 Industries is offering only the most authentic of  Halo: Combat Evolved experiences at this year's  Halo Fest, letting players go hands on with the  Anniversary remake of the Xbox original with its original controller, the beastly gamepad nicknamed the "Duke."

343 Industries' Frank O'Connor let slip on theNeoGAF forum that the studio is "trying to get some OG Dukes rebuilt with 360 guts for Halo Fest." Good news for Halo Fest attendees, but perhaps bittersweet for those who would love to get their huge hands on an Xbox 360 compatible Duke.

O'Connor clarified that 343 is "planning on having about six made, by people who have been doing the same thing for years." It also plans to auction off the custom-made controllers for charity.

Giant Bomb followed up with 343 Industries on its Duke controller plans, learning that the extremely limited run is being made with original Xbox controllers harvested from a thrift store, cleaned up and customized for the  Halo-centric event. Don't expect to be able to buy these things in stores.
Righteous.