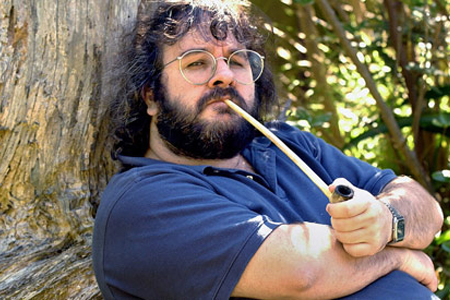 I don't really think much about the fact that Peter Jackson is out there somewhere in the mythical land of New Zealand making two movies based off of 'The Hobbit.' This stems from a callousing of my heart, after years of my heroes following up beloved works with installments in said beloved franchises that stab my gooey blood-pumper and make me frown.
Regardless of my thinking, Jackson is, and now the movies have titles and release dates.
New Line Cinema, Warner Bros. Pictures and MGM have announced the titles and release dates for filmmaker Peter Jackson's two-film adaptation of J.R.R. Tolkien's enduringly popular masterpiece "The Hobbit." The first film, titled The Hobbit: An Unexpected Journey, will be released on December 14, 2012. The second film, titled The Hobbit: There and Back Again, is slated for release the following year, on December 13, 2013.
I sincerely wish that I was more excited for this flick. It's Peter Jackson!, returning to the lands I love in Lord of the Rings. And yet, and yet I'm not. All of this skepticism on my behalf is compounded by the fact that I found King Kong to be blegh, and Lovely Bones to be atrocious.  Can the dude capture the same feel, the same lightning in a bottle? Again? History tells me no, my little naive heart begs to be wrong.
Thoughts?