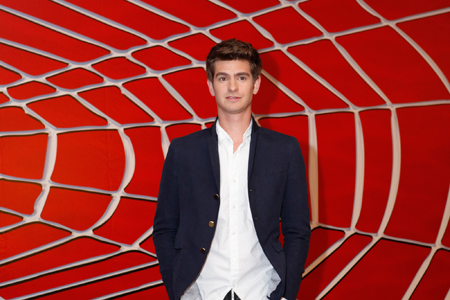 Earlier this week we got our first glimpse of Andrew Garfield as Spider-Man. Now today running throughout the various pipes and tubings of the internet are excerpts from The Los Angeles Times' interview with him. Taken from The Envelope, the awards blog for the Times, Garfield opens up about the first two weeks of filming the new Spider-Man flick.
Hit the jump for excerpts, and an insight into the new Peter Parker. Hint: he seems less doughy and dorky than Tobey McGuire. I like.
On The Filming Being Fun:
We're two weeks in. The first week was full of stunts, and I've never felt happier in my whole life. I'm all bruised and scratched up, and it feels really good. It's just me throwing myself up against walls, which is incredibly fun and painful and testing my manhood. It's a childhood fantasy I'm living out.
On Spidey Being A Role He's Played His Whole Life:
Yes. On Halloween. Bedtimes. Tuesdays. When I was auditioning, my parents sent me a photo of me as a kid in the Spider-Man costume. I gave it to my agent, and my agent slipped it to the studio as they were making their decision.

What skinny kid wouldn't love that character? I can't overstate enough when you start to actually identify what's happened and you go, "Yeah, I did dream of being Spider-Man when I was a kid." I'm trying not to lose my mind about it. But it's not superficial to me. It's not frothy or frivolous.
For the rest of his interview, which goes into his fantastic performance in the Social Network and working with Fincher, go here.