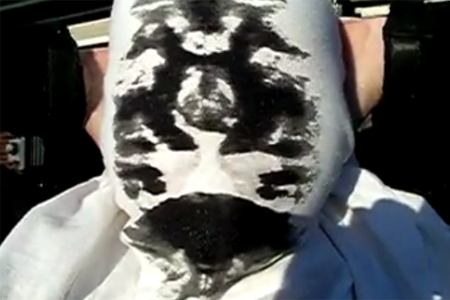 Are you like me? Riddled with mental problems. Socially retarded. Stewing for the past eighteen months or so about the Watchmen movie? Have you wanted to kick Zack Snyder's ass and roll him down a hill of turds and landmines? Well, now you can do it. In fact, you can do it in your own fucking Rorschach mask. Youtube user guinness0507 is dropping knowledge bombs, letting us all know how to pull it off. It involves shit like "Thermochromic paint pigment and clear screen printing base", which is way beyond me.
But it's still fucking rad as hell to see in action.
Hit the jump to watch our boy Guinness break it down.