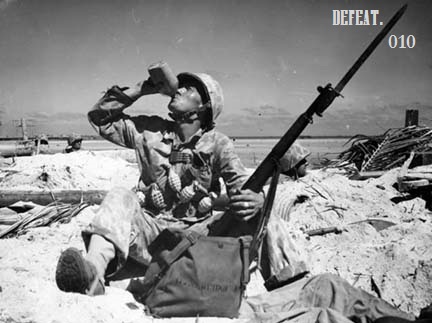 [DEFEAT. is Rendar Frankenstein's truest attempt at fiction.   Presented in weekly episodes, the novella tells the tale of Daryl Millar - a hero who dies at the intersection of pop culture, science-fiction, war epic, and fantasy]
November 17, 1943
To My Beloved Betty,
As I write to you I sit aboard a vessel that, despite being a giant in its own right, is dwarfed by the mammoth that is the Pacific. If it weren't starting to turn crimson with the blood of good, honest (and not so honest) men, I'd swear this ocean is the embodiment of God himself.
All of the supposed comforts provided by this battleship are revealed as mere feats of human ingenuity – designs of imperfect and selfish beings – when one understands the magnificence of its supporting body of water. I spend a lot of time on deck, staring out into its vastness, wondering how it is that I've ever managed to feel important.
The ocean is natural and timeless. Humanity's current path seems to be anything but.
However, when I think of you and the love you've given me I can't help but remember why it is that I continue. In the long term, I truly believe that we — people, human beings, civilization — will be but a flash in the pan. With that being said, there's no reason to settle for less during our moment.