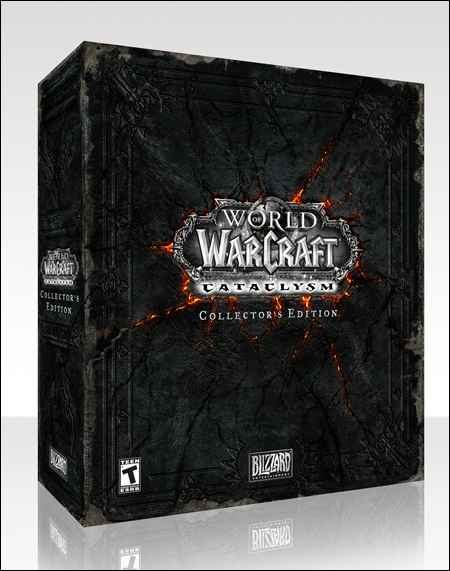 Bask in awe, you fucking geeks! Even at my height of World of Warcraft bonery, I didn't buy any of their collector's edition. And with my interest in Cataclysm tepid at best, I sure as fuck ain't springing for this $80 son of a bitch. Of course I'm still getting the game, since Blizzard owns my soul. But mean, I'm saving up for the Intergalactic Nerdcore Mass Effect 3 package, I can't be fucking frivolous.
If you are a dedicated douchenozzle though, this is what the package entails.
Art of the Cataclysm art book, featuring 176 pages of never-before-seen images from the archives of the Blizzard Entertainment cinematics department and the World of Warcraft development team, as well as progressive visuals from multiple stages of development.

Exclusive in-game pet: he may not be a breaker of worlds just yet, but Lil' Deathwing will still proudly accompany heroes on their struggle to save Azeroth from his much, much larger counterpart.

Behind-the-scenes DVD with over an hour of developer interviews and commentaries, as well as a special Warcraft retrospective examining the rich gaming history of the Warcraft universe.
Soundtrack featuring 10 epic new tracks from Cataclysm, including exclusive bonus tracks.

Special-edition mouse pad depicting Deathwing menacing the ravaged continents of Azeroth.

World of Warcraft Trading Card Game cards, including a 60-card starter deck from the Wrathgate series, two extended-art cards, and two Collector's Edition-exclusive hero cards, marking the first appearance of goblin and worgen heroes in the TCG.
Full disclosure? I actually think almost all of the content is dope, save for the Wizards Cards and the mouse pad. Making-Of DVDs are some of my favorite shit in the world, and the artwork of WoW has always been gorgeous. Buy it for me, someone, treat me to a glorious Christmas present for all the prose I rattle off for you.