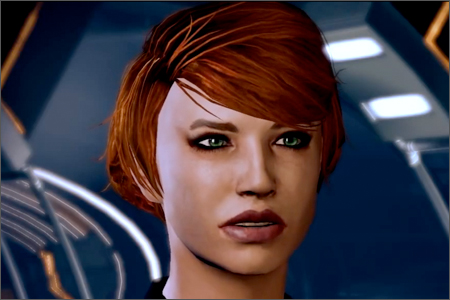 Here's the truth, one of my favorite activities in Mass Effect 2 is trying to get into the pants of Yeoman Chambers. She's the adorable little brunette deckhand who is always telling me when I have messages at my terminal. As well, she always seems to find a reason to be slightly bent over her own computer, inviting the inevitable stare at her bum.
It's nice.
Nice.
Through one and a half playthroughs of the game, I ain't had sex with no one. Eerily, this game echoes the majority of my real life. When I first stepped aboard the Normany, I was DTF, man. Down. To. Fuck. I was macking on everyone like I was going to die tomorrow. I was dropping all sorts of sexy cavalier poems in the hopes of getting everyone to see just how fleeting this beautiful life was. We ain't got time for jibber-jabber, we gotta fuck! I'm poetical, fuck!
Gather ye rosebuds while ye may,
Old Time is still a-flying:
And this same flower that smiles to-day
To-morrow will be dying.
Carpe diem? I need to carpe that ass!
I think I overplayed my hand, though. I rolled up aboard the Normandy, and I was practically dry-humping the FTL console. Krogans, quarians, men, women, tentacles, it didn't matter. I wanted that shit. And for that, I will pay the ultimate consequence; Kelly Chambers, obviously of a high quality of virtue and not to be a pawn, won't talk to me no moh'.
MOTHERFRAKER.
Now? Now I'm stuck probably hate-fucking Jacob. Yeah, I'm playing as a chick, what of it? I'm typical, man. I'm just a dude, who secretly wishes he was a lesbian. I'm like, you know, the other zillion fanboys out there. Jacob's a nice guy and all, but he really doesn't do anything for me. Maybe because he looks like Kanye West, or maybe because he's a void of emotion. Listen, Jacob. I know I hit the town like a fucking gangbuster, and I was practically salivating at the crotch bulge of your super-space-suit, but fuck man, I need to snuggle with whoever I'm tappin'. I know if I settle down with you for some fluid-sloshing, you're just going to be back in the armory in like ten minutes.
I AM NOT AN OBJECT. Well, I might be, but that's not all I am.
I'm not going to be complete until I finally consummate my thang with Yeoman Chambers. I don't care how many playthroughs it takes. I'll reform. I'll stop trying to get Thane to meet me in the women's restroom. Honest. I promise. Because you're special, Kelly. The rest of those humans, aliens, and artificial lifeforms I've been trying to fuck? They've just been there to try and take you off my mind.
Xoxo.