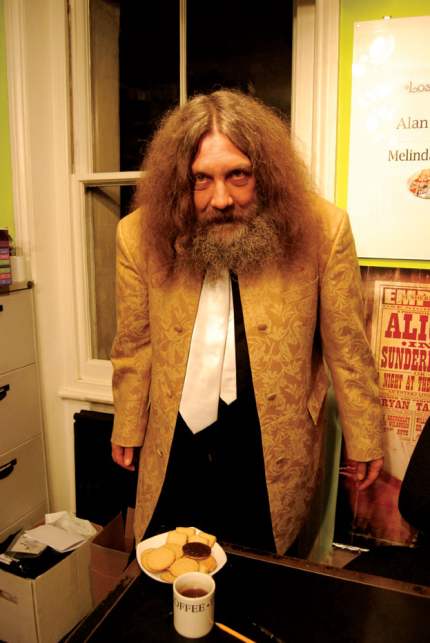 The people at some website called Mania.com have just put out the second installment of an interview with Alan Moore, acclaimed writer of every fucking comic book taken seriously. So far, it is a really interesting read – checking out the perspectives of a man who has done more to alter the course of the comic book medium while simultaneously lambasting its industry.
While I'm not going to regurgitate the entire article, I am going to present one of my favorite excerpts. In this bit, Moore discusses the perversion that is comic book fandom's loyalty to static, well-worn properties over the creators striving to do something unique and  challenge the limits of imagination.
I remember somebody in one of the fanzines over here saying, "Well, why don't we just not buy any Marvel comics until they give Jack Kirby what he deserves." I thought, "Yeah, that sounds good. I'll do that." And, that was when I stopped buying Marvel comics. I think in the next issue of the fanzine, someone said, "Uh, yeah, but fans are never going to do that, are they?" And, as it turns out, he was right. But, they could've done it, if they'd really cared–not if they'd cared for the Hulk, but for the person who created the Hulk; not if they cared for Spider-Man, but if they'd cared for Steve Ditko. They could've protested, just once–even if that was only by not buying comics that were substandard or had got ugly practices with how their creators were handled. The whole of the industry, from top to bottom, does have a certain amount of responsibility for its decline.
This is the voice of a man who knows what is truly good for comics. People read Warren Ellis' Do Anything  and discard it as half-baked philosophy. These same folks  write off The Dark Knight Strikes Again  as Frank Miller's failed attempt to recapture greatness (anyone who's read Eisner/Miller understands that FM was deliberately refuting his past work). And I'm sure that Alan Moore's most recent comments will be shrugged off, explained away as the "semi-coherent musing of a fucked up snake-deity worshipping old man."
Actually, that explanation isn't wrong. But neither is Alan Moore.