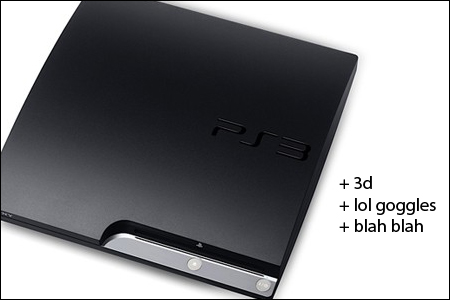 When the Earth was created, there was the PS3. Now there's the Ps3 Slim. Soon, it looks like there's going to be the 250gb Ps3 Slim. And even after that, apparently there's going to be another god damn version of a Ps3 with 3D hardware integrated into it. Strap on your googles, assholes, and get ready to shake your Sony Wiimoteshock at fluttering butterflies or some shit:
Via Kotaku:

According to a Sony rep speaking with Cnet, "over the following two or three years" Sony will begin installing hardware inside the PS3 that will enable the console to display games in 3D.
Fuckkkkkkk. God dammit Sony, come on. I bought your piece of crap PS3 back in 2006 when there were no titles for it, because I'm a hardcore asshole. I just needed it. You prey on people like me. But god dammit, don't make me buy another console. If your lame-assed 3D plans only become some sort of auxiliary option, that's fine, whatever. Be a fruit cake. But if I can't play God of War and Clank 3 because I don't have the appropriate version of PS3 I'm going to lose my god damn mind.
3D gaming? Fucking come on. This isn't Universal Studios. I'm a crotchety old man, I cry foul. All the causal d-bags who have propelled a glorified peripheral (the Wii) to insane installed bases will probably straight up ejaculate at the prospect.
To you, I say, catch PAX-Nerd-Flu.