Fuck Crime, Kick-Ass in April 2k10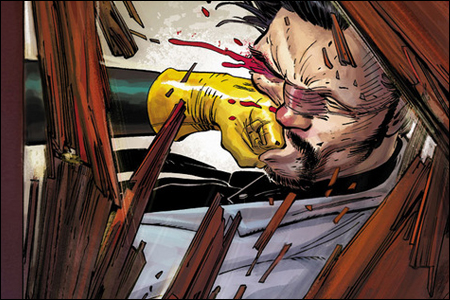 Are you fools ready to Fuck Crime! next April? I hope so! Because the movie adaptation of the comic book Kick-Ass is spilling into theaters on April 16, 2010. I have to say, I'm one of the few people I know that isn't totally jizzing over the comic book. It's yet another Mark Millar riff on SUPERHEROES IN THE REAL WORLD, ala Wanted, Marvel 1985, et cetera, et cetera. And it seems to rely on hyperviolence and shock value. I should probably admit after stating that though, that Mark Millar is one of my favorite comic book writers. And he's scribed countless stories I've adored. Maybe I'm just burnt out on ultraviolence. It's not his fault. I love you Mark! It's just that every time I read an issue, I get the feeling there's the "Are you shocked?! Are you offended? Eh! EH?!"
No, I'm not. I jerk off to scat porn. A little girl saying the word "Cunt" doesn't blow me away anymore.
That said, I couldn't help but be amazed by the clips that leaked from San Diego Comic Con this year. They're pretty god damn faithful. Deep down inside I'm sweating the movie, and I have the funny feeling it's going to blow my god damn socks off. As well, the fact that the movie was independently funded reeks of awesomeness and I love the fact that they just shot the fucking movie they wanted, and sold it afterwards. I think I may be fawning. Fuck. Shit.
I'm conflicted.
Lay off me, I'm bipolar.